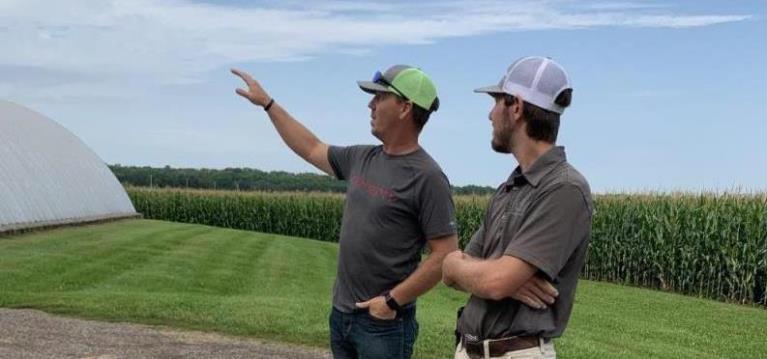 While earning a college degree, participating in educational workshops or attending conferences are great ways to expand your knowledge, nothing quite compares to receiving advice from a mentor who has spent decades in the industry.

With this is mind, GreenStone's CultivateGrowth Mentorship program helps the next generation learn from the knowledge and skill of others by pairing young, beginning and small farmers with experienced farmers of a similar commodity to learn directly from through. After wrapping up the 2020-2022 program in April, GreenStone is now accepting applications for the 2022-2024 CutlivateGrowth Mentorship program.

The program will pair a mentor and mentee together to discuss their farming goals, business practices and to lean on one another for advice. To maximize each participant's mentorship experience, each pairing will be guided by their GreenStone relationship managers and a professional business coach. Through this 18-month mentorship program, participants gain unmatched insight from one another and in the past, participants have often implemented changes on their farm as a result of what they've learned.

The program begins with a day of training to ensure both the mentor and mentee are equipped with the correct tools to maximize their mentorship experience. The program will also include several coordinated conversations and FSO-led meeting sessions to strengthen the relationship between the participants paired. Mentors and mentees have site visits to each other's farms and are encouraged to meet one-on-one several times throughout the year.

Additional networking and educational events are available for participants and in the past, both mentors and mentees have benefited from the program by gaining a new perspective. Though these relationships will last long after, the official program will conclude with a group celebration event at the end of the 18 months.

Check out what past participants have to say..

Apply for the program today!

We are currently seeking both mentees and mentors to participate in the 2022-2024 CultivateGrowth Mentorship program beginning this fall. For more information, contact your local GreenStone branch. If you are interested in joining the program, sign-up via the 2022-2024 participant application by July 29, 2022!

For more information, contact your local GreenStone branch.