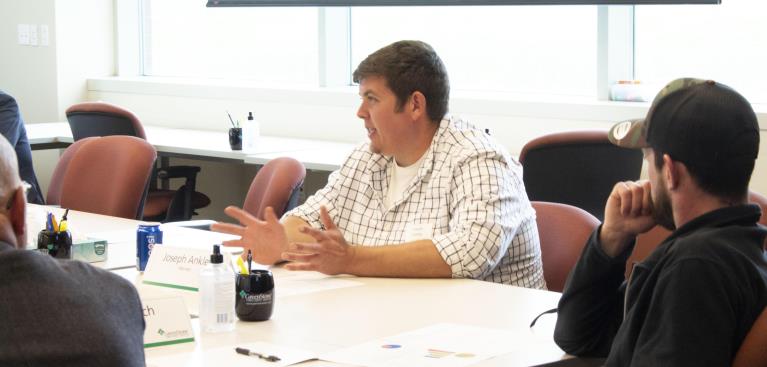 CultivateGrowth Mentorship
While course-based learning and education are valuable resources when it comes to preparing your farm business for today's competitive market, it doesn't quite compare to learning directly from a seasoned industry expert. Being able to connect with an experienced farmer of a similar commodity offers a unique and unmatched learning opportunity for young, beginning and small farmers, an opportunity made possible by GreenStone's unique CultivateGrowth Mentorship program.
The most recent program began by matching nearly 20 mentor and mentee participants in late 2020. Following the kick-off, mentors and mentees toured each other's farm and stayed connected via phone calls, texts, and in-person meet-ups. This continued during throughout the program as participants turned toward one another for advice, and discussed farming best practices and management strategies – leading to learning opportunities for both the mentees and mentors and creating lasting friendships.
"One of the largest benefits of the program is that you establish a relationship that will last longer than the 18 months the program runs," Joe Ankley, Lapeer County, Farm Stand Operator and program mentee explains. "It's great to have someone I will be able to ask questions to in the future, knowing I will get honest answers - whether it is related to the business side of things or how he runs his operation."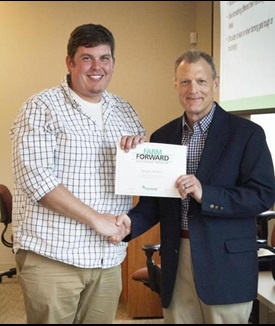 To celebrate the successful conclusion of the 2020-2022 CultivateGrowth Mentorship program, participants came together for a final program wrap-up celebration last month. During the wrap-up event, participants reflected on how the mentorship benefited them, the guidance it provided and on-farm changes that were implemented as a result of what they learned. Joined by GreenStone's executive team and board of directors, participants also shared their stories of success and what the mentorship program meant to them.

"This [program] is an investment; it is an investment of your time, an investment of your resources and it's definitely paid off," Joe says. "I think that having the opportunity to do this, even being a little hesitant at first, was extremely advantageous. It's going to affect me the rest of my career in agriculture and the rest of my life farming. I'm very excited for the opportunities it presented but also very thankful for GreenStone for sponsoring this program."

Interested in joining the program?

GreenStone will soon be seeking both mentees and mentors to participate in the 2022-2024 CultivateGrowth Mentorship beginning later this year. For more information, contact your local GreenStone branch or view the program online application.