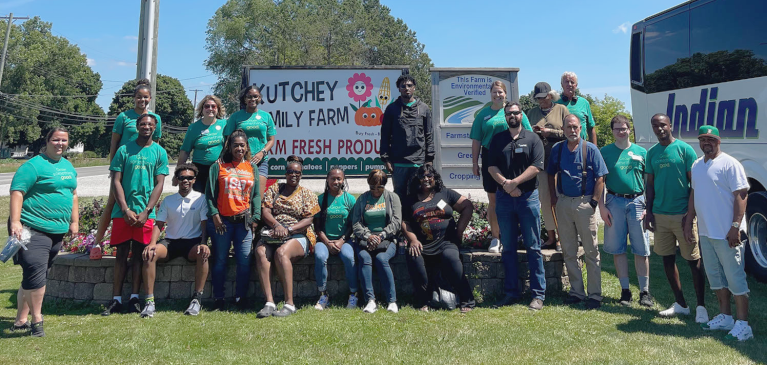 A group of GreenStone interns, Friendship and Alliance Scholarship winners and their families recently had a chance to partake in a Southeast Michigan agriculture tour. This opportunity, put together by GreenStone Farm Credit Services, featured five unique stops in the Metro-Detroit area. A day filled with learning, great food, and friendship was the perfect way to celebrate these students before they head back to school at Florida A&M for their fall semester.
Follow along below for a photo tour depicting this fun and educational day!
John Hantz, long time Detroit resident and CEO of the Hantz Group, approached city government in 2008 with a proposal to revitalize neighborhoods using the skills and resources of Hantz Group employees to establish a large farm. The desired outcome was cleaner, safer neighborhoods, improved property values, a rekindled local economy, and improved schools. The mission behind their investment is truly livable neighborhoods. GreenStone partnered with the Hantz Group in this farming project to meet numerous objectives including engaging with youth in Detroit for broader agriculture awareness.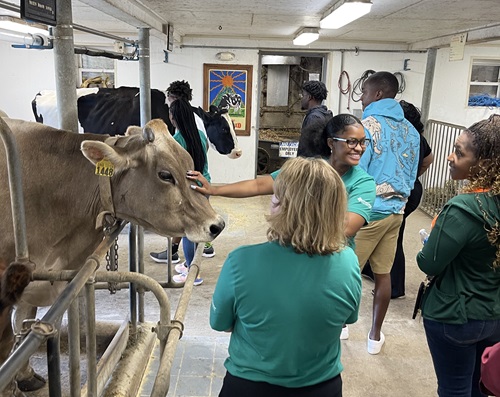 Wolcott Mill Metropark Farm Center

Visitors get a glimpse of rural life at Wolcott Mill Metropark Farm Center. The 250-acre working farm brings you face to face with live animals, including cows, chickens, goats, pigs, sheep, ducks and horses. The Center helps to each the origins of the food and fiber that impact the lives of people and their communities. The interpretive staff conducts programs on a wide variety of subjects such as milk, lamb and wool production, soil and water conservation, sustainable agriculture, food processing and modern farming techniques.

Home to an 800-acre working farm and orchard with a Cider Mill, Funland, Tasting Room, and Hard Cider Production Facility, Blake's grows over 40 different apple varieties on the property, along with a diverse selection of crops. For seven decades Blake's has strived to put community and environment at its forefront, with a passion for providing its visitors with the freshest homegrown fruit and vegetables and a memorable family experience.

Kutchey Family Farm started in the early 1800's in Warren, Michigan, selling mostly potatoes, eggs, and milk from their farmhouse. They moved to their location today on 26 Mile Road in northern Macomb County in 1965 and expanded into fresh fruits and vegetables. In 1989, the farm market on 26 Mile Road was opened, and some could say the rest is history! Today the farm is owned and operated by Joe and Susan Kutchey where they continue to sustainably farm the ground to produce high quality, safe products for their family and yours! They continue to provide fresh picked sweet corn, tomatoes, peppers and a wide variety of seasonal fruits and vegetables from mid-July through October. In addition to the homegrown produce, their market offers local honey, fresh fruit from the orchards of Romeo, homemade jams, jellies, salsas and much more.

At Planted Detroit, they are shortening the supply chain. They harvest their greens every day, package mixes, micros and ready-to-eat salads to order, and deliver them right to your door. They never sell any product that's more than 6 days from harvest and are actively working to reduce food insecurity in their community by donating leftovers. This innovative growing environment provides a glimpse into the future of agriculture.