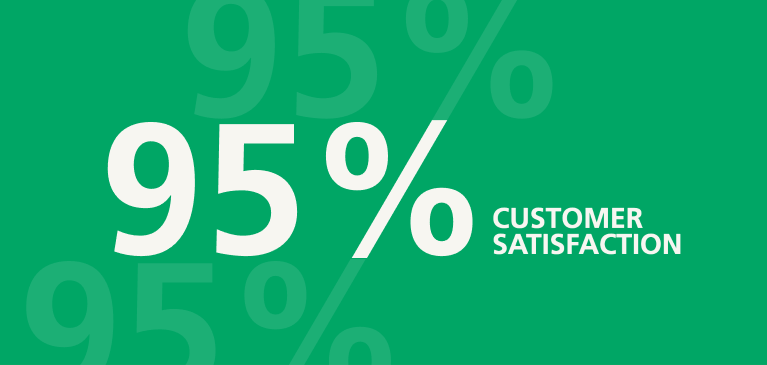 Customers appreciate personalized support, trusted experience, and engaged communication in their cooperative partnership, with 95% satisfaction!
GreenStone's customers continue to feel their cooperative is exceeding their expectations, returning 95 percent customer satisfaction.

In an annual survey, GreenStone Farm Credit Services once again scored above industry averages with a 95 percent overall customer satisfaction rating in 2022. A slight rebound from last year, 2022 rating marks 21 years of consecutive service above 90 percent for the member-owned cooperative. Not only did overall satisfaction tick up, so did the percent of very satisfied customers – the top of the seven-point scale.

"Along with the overall high satisfaction, what is even more encouraging is that customers feel the same way no matter which product or service they receive from GreenStone. Our farm, country living, and agribusiness loan customers all feel we've once again improved their experience, just as our crop insurance and tax, accounting and payroll customers shared," explained Travis Jones, GreenStone's new president and CEO.

"Part of our success is because we're always listening to our customers. We don't just get a score, our customers have an opportunity to comment and we read every one to make sure we're meeting the needs of our customers," Jones continued.

Along with the specific satisfaction ratings for the cooperative's breadth of products and services, customers provided candid feedback on their experience with GreenStone and expectations of their financial partner. Words like trust, communication, care, knowledge, friend, available, adapt, simple and local, permeate through the survey responses – all characteristics of GreenStone's relationship-based culture that remains part of the cooperative's foundation.

Among the most prominent topics commented on was appreciation for the unique benefit of their cooperative membership – Patronage! A profit-sharing program, members received $115 million back in their pockets in March 2022, nearly 45% of the cooperative's net profits went right back to its members. This value is on top of the personal service GreenStone teammates prioritize each day.

"I've always believed GreenStone is one of the best performing financial institutions in the country, and our customers confirm that each year. When you combine our financial strength and member benefits with our employee engagement scores and customer satisfaction results, it's clear this is a pretty special place," said Jones. "This culture of putting our customers first, delivering quality, doing the right thing, and getting involved is the result of a century of collaborative focus. I'm excited to continue working with this high performing team committed to living these values to best support our customers and their personal and business dreams."

GreenStone customers from Michigan and Wisconsin participated in the annual survey.