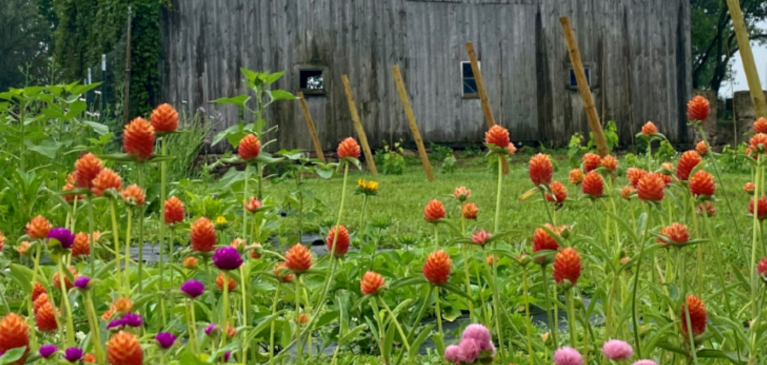 Beginning the adventure down an unfamiliar path can sound intimidating, but with a little help from GreenStone and a lot of YouTube tutorials, success might be at your fingertips!
With no agriculture background, Wisconsin resident Rick Walkush, took the step into the unknown when he decided to begin Barnwood Farms, a U-Pick flower farm that opened in July of 2021. He dove headfirst into YouTube tutorials, purchased his own farm equipment, and turned the land into a booming business.
Rick began this journey when he purchased property in Waupaca, WI to use as hunting land with his son. The property had tillable soil, an old barn, and a dilapidated house.
"One day while I was in my tree stand, I was wondering what I could do with the tillable area on the land. I began Googling, and that's where I found the idea for a vineyard, lavender, and flower farm," explained Rick.
Rick had never planted a flower in his life, but he has a photography background and loads of creativity. When he's not at work, he's in the field planting an array of flowers and planning for the next big project. His girlfriend and daughter have also followed along for the journey.
"My girlfriend Holly is my COIO - chief opinion and inspiration officer, I'm able to bounce all of my crazy ideas off her. And my daughter Abby is our marketing specialist. She handles our social media and website," Rick shared with a smile.
Rick's creativity has blossomed into an variety of events and possibilities for Barnwood Farms. Currently, they run a bouquet subscription service where Rick designs and delivers weekly bouquets using flowers fresh from his fields. Through GreenStone's CultivateGrowth Grant, Rick was able to participate in a bouquet design class through The American School of Floral Design.
During his classes with The American School of Floral Design, Rick learned how to arrange the flowers in a vase, how to cut and prep the stems, and how to make the ultimate wedding centerpieces. The CultivateGrowth Grant allowed Rick to pursue these educational courses without worrying about the cost. Through his advancement in education, he has been able to sell all of the bouquet subscriptions he has available and enter into the wedding floral business. Rick now does wildflower wedding centerpieces, and is looking to do bridal bouquets and corsages in the future.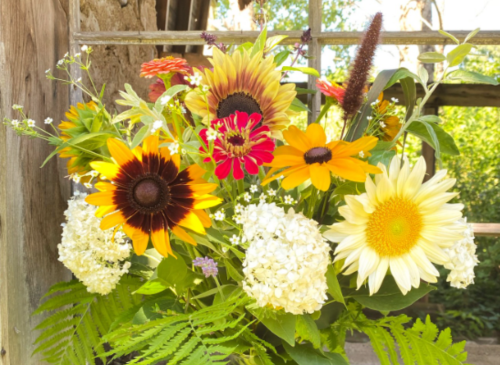 Rick pictured with his bouquet designs

Since their grand opening in July, the farm has tripled its sales and continues to grow! Rick's next biggest goal is to finish the vineyard on the property. One day they hope to have an operating winery with Barnwood Farms labeled wine. Educational opportunities in wineries and vineyards are another resource Rick can pursue down the road with the GreenStone grant program to help achieve his goals.

Rick's key lesson from this year:- don't overwhelm yourself with too many things! "I really learned not to do too much all at once. I was trying to do too many flower varieties and had too many other projects going on that it can get overwhelming. I learned that next year, I need to focus on our popular flower varieties while still doing the same amount."

Barnwood Farms will be open again next spring for another year of u-pick flowers, photography booking, bouquet subscriptions, event hosting, and much more! For more information visit Barnwood Farms (barnwoodfarmswaupaca.com).

New farmers, like Rick, are extremely important to agriculture's vibrant future and GreenStone strives to support them in their new journey! To learn more about the CultivateGrowth Grant, visit Grow Forward Grant | GreenStone FCS. There are always resources available to help you continue your education today!