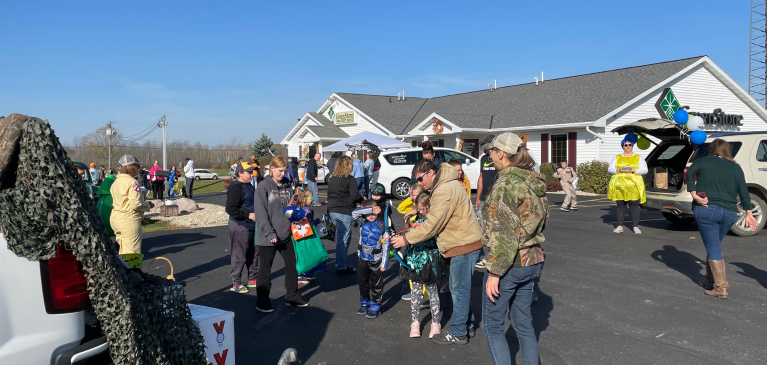 Every October marks the arrival of spooky season and the many fun events that come along with it. Weekends are filled with frolics through the pumpkin patch, screams at the haunted house, and overindulging on delicious candy after trick or treating. For the community of Sturgeon Bay, October 22nd was a day for candy, games, laughter, and even agriculture at the first-ever GreenStone Trunk or Treat event.

Fifteen vehicles decorated for Halloween adorned the GreenStone parking lot. Multiple vehicles were branch customers who brought their kids and grandkids in their restored antique trucks while the rest were branch employees. The kids in the community were able to walk from vehicle to vehicle for handfuls of candy and enjoy other activities such as face painting, pumpkin painting, ghost decorating, and the opportunity to meet a calf.

"Certain trunks were also set up to be interactive for the kids," explained Cathleen Guillette, GreenStone loan processor "For mine, I chose the theme of 'Hunting for Treats'. So, the kids got a bow and arrow with a suction cup that they could use to hit targets to win more treats."

Even though it was a Halloween centered event, the branch wanted to include hints of agricultural exposure throughout the day. Each kid at the event received a Grow Something Good shirt along with a pack of wildflower seeds to encourage positivity in the community and environment.

"We thought the shirts and seeds were a great way to encourage parents and children to start planting together next spring and it really fit in with the idea of growing something good," said Cathleen.

A local customer also brought his calf with him to introduce children to a farm animal. Multiple children had never had experience with calves, so it was a great way to get them excited about animals in agriculture.

The Trunk or Treat surpassed all the goals the branch had set, especially attendance. Around 200-250 kids showed up to the Trunk or Treat -- doubling their expected goal!

While brainstorming ideas for how to get more involved in the community, the Sturgeon Bay branch developed the Trunk or Treat event. Through dividing and conquering, each branch member played a huge role in the overall success. Other organizations in the community also offered support in ensuring the event ran smoothly. The Southern Door FFA Chapter decorated a vehicle and volunteered their time to managing multiple activity stations.

"We are very happy with the outcome of this event. We were able to spend the day with customers and their kids while also spreading awareness about GreenStone to the community. Being able to mix agriculture with Halloween in such a successful way was a huge goal that we were able to meet. The entire team of staff worked hand-in-hand to make this a great event and we can't wait to see the outcome of spreading GreenStone's name through logowear and conversations," exclaimed Cathleen.

To keep up with future GreenStone events visit Open Fields Blog | GreenStone FCS.



Did you receive a Grow Something Good shirt at this event? For more information on what to do next visit Impact Shirt Campaign | GreenStone FCS.