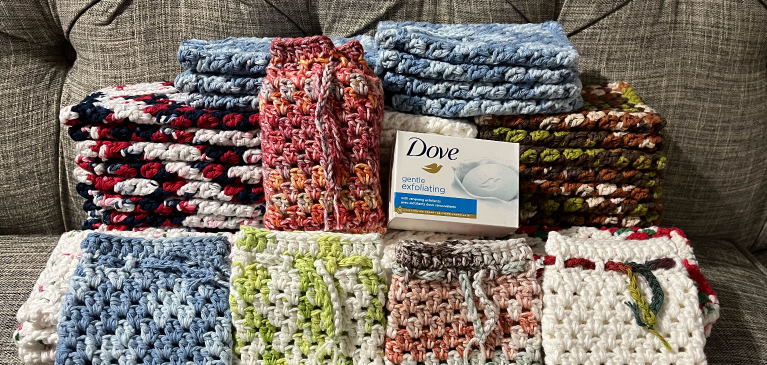 Volunteering is not a one size fits all activity. There are many different forms of volunteering. For some, volunteering means spending the day at the local animal shelter or food pantry but for others, volunteering can be done from the comfort of their home. For GreenStone Senior Learning Systems & Documentation Specialist Heidi Lyons, her hobby became a way to volunteer.


During her free time, Heidi enjoys crocheting, and she quickly realized that she needed something to do with her finished pieces. She turned to Google and began researching projects that could be donated to local shelters. Since 2020, she has created cat mats for kittens at the Capital Area Humane Society and chemo caps for cancer patients in her community.


She found that these projects were also a great way to use volunteer hours when many organizations were closed to the public during COVID. "I was really wondering how to volunteer but not necessarily be in person somewhere, and this provided me an opportunity to do that while also doing something I love to do," explained Heidi.


While looking for more organizations to donate to, Heidi came across Supporting a Community with Kindness and their project of soap bags. The soap bags are crocheted sacks that hold a bar of soap and act as a washcloth. "I came across this organization randomly, and it made me realize how very fortunate I am and how much I would love to help someone who doesn't have access to a bar soap or a washcloth," Heidi said.


Heidi has currently crocheted over 60 soap bags and hopes to reach 100. After reaching her goal, she will be donating them to the Safe Haven House in Saginaw, MI. Supporting a Community with Kindness takes donations, but they primarily provide crochet patterns local individuals can use to make soap bags for donations in their local community.

Through donating to the shelter, Heidi is striving to also bring hope to others. She wants people to know, "there are people out there who care about the less fortunate and are willing to help them and support them through whatever they are going through. I hope my donations show a little bit of love to all of those who need it."


When it comes to volunteering and getting involved in the community, think outside the box! There are opportunities for everyone to make a difference. Like Heidi, you can use your hobby to make donations or set some time aside in your schedule for in person opportunities!


For more information on Supporting a Community with Kindness, visit Welcome to Soap S.A.C.K. – Supporting A Community with Kindness (soapsacks.com).


To learn more about how our GreenStone employees are getting involved, visit Open Fields Blog | GreenStone FCS.