Andy Chae left suburban Detroit as a passionate skateboarding kid to pursue a law degree at DePaul University and returned a socially-charged farmer ready to make a difference. Classes at DePaul, along with experiences working with urban farming groups in Chicago, inspired Andy and his fiancé, Amy Eckert, to start a farm in Detroit. Armed with little more than a few years of urban farming experience and a dream, the two set out to find land and start their business among the houses and vacant lots in the Detroit area.
"I was back in the Detroit area over summer break one year and learned about the Hantz Farm and their efforts to help revitalize the area," Andy says. "Seeing the success of urban farms in the Chicago area, I began planning how we could do something similar in Detroit."
While at DePaul, Andy pursued environmental studies and political science, a combination giving him insights and experiences to take him from the pursuit of a "suit and tie" career to one of gloves and work boots.
"There are so many factors to farming that I was drawn to, from helping the environment and providing a local supply of fresh food to the physical activity and being outside, that once I discovered this, it's where I wanted to be," Andy says. "Growing up I was into skateboarding. Skateboarders are passionate people; I am now channeling my passion into farming."
Andy and Amy started Fisheye Farms on a small plot of land in the Pontiac area given to them by Andy's uncle, Moon Chae in 2015. The farm name is a nod to a style of photography often used in skateboarding.
Soon after starting their farm they realized they would need more land to meet the demands generated from local restaurants interested in purchasing locally-grown produce.
Through his connections with Hantz Farms, Andy reached out to GreenStone to obtain financing through its Young, Beginning and Small Farmer program. Working with Mike Niesyto in the Ann Arbor branch, Andy was able to secure an operating loan.
"We closed on the land in September and spent the rest of the year working the land, building beds and getting the area ready to plant in the spring," Andy says. "This year we have about 10,000 square feet of bed space growing mostly salad greens that we sell to local restaurants. We plant over 120 different varieties in succession so we can make 8-10 cuttings of the greens per bed."
Fisheye Farms markets about 90 percent of their produce directly to 15 restaurants in Detroit. The balance is sold at a weekly farmer's market.
"We work closely with the chefs so they know what we will have ready each week so they can incorporate it in their menus," Andy says. "Our routine is to cut and wash on Wednesday and deliver on Thursday and Friday."
Having a presence at the Farmer's Market gives Andy a chance to meet other farmers and potential wholesale customers.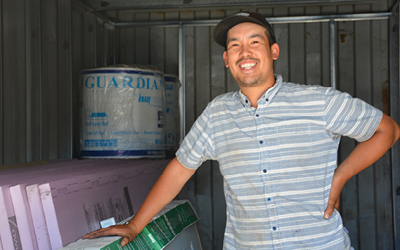 Turning City Land to Farm Land

Converting a vacant lot to ground fertile enough to produce food, is one of the biggest hurdles to overcome with urban farming. Years of residential or commercial use depletes the soil fertility and the tight spaces make it impossible to bring in large equipment. Fill dirt and compost used over time creates inconsistent soil profiles in addition to cement and other debris from housing.

"We put in a lot of work to get the land ready to plant," Andy says. "We use crop rotations and pathway cover crops to increase the organic matter in the soil. We have to be creative in ways to continually build up the soil."

Preparing the farm site also include securing large containers to serve as coolers and setting up a washing station. Andy hopes to be able to host groups at the farm who might want to learn more about food they are growing.

Farming lots, instead of acres, requires more physical labor, which limits expansion and therefore, makes generating more income difficult. Both Andy and Amy hold part-time restaurant jobs along with working full-time on the farm. The off-farm jobs provide benefits and additional income.

Andy supplements his experience in Chicago by networking with other farmers in the area including participating in GreenStone's Farm Forward Mentorship program. Through this program, Andy was connected with Bob Schultz, a vegetable and cash crop farmer in Washtenaw County. Although the size of the two operations was vastly different, Andy gained a great deal of insight from Bob.

"He (Bob) would drive down to see what I am doing, offer some tips, but mostly talk about how he got started farming as a first generation farmer," Andy says. "He helps in intangible ways like learning more about the rural lifestyle and how to be cautious when buying land. Even though we are done with the program, I plan to still call him and keep in touch."

Transitioning to Rural Farming

Obtaining land in the city to farm requires timing, patience and knowledge. In the few years Andy and Amy have been farming, they have made connections and worked through some of the processes to obtain more land, but they believe it will always be a limitation, along with other obstacles involved in urban farming. Given that, they hope to someday move to a more rural setting to farm more land with more machinery or add more land to the current farm.

"We gross about $9 per every square foot on the land we farm," Andy says. "We continually look for new land, but the city is selective in who they sell to. We are starting to look more toward a rural area where we can farm more acres."

In the meantime, Andy and Amy will continue to make the land they do have as productive and profitable as they can.

"We are really enjoying our lives," Andy says. "It may not be where I thought I was headed when I went to college, but I have a very rewarding life."

Link to the full Fisheye Farms article:

https://issuu.com/greenstonefcs/docs/gs_partners_summer_18_web/6