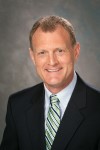 Unfortunately, the "news of the day" continues to be commodity market uncertainty and anxiety around final yields, primarily for corn and soybeans. Based on my travels around our territory this summer, I can safely say that yields will be all over the board varying by not only region but within the same field!

Many people ask me "so how does it look for farmers this year?" And I have to answer, "It's too early to tell." In fact, no one will really know until harvest is complete, but we do know that most everyone is praying for a late freeze to get as much of the late-planted crop to maturity as possible.

As the wheels turn through the fields, GreenStone is embarking on another round of proactive outreach to many of our members. With the goal of being informed and prepared, our teams are listening and learning from members on their current conditions, and discussing any special financing needs that would best assist them.

Although we understand many farmers will not yet know how their year is going to turn out, by continuing these conversations we can be personally engaged in assisting in their financial planning process and helping them evaluate areas that might not yet be top of mind. The earlier we start evaluating possible financial outcomes, the better prepared we all can be - our members and our staff - to implement timely solutions for possible cash flow and earnings shortages resulting from the poor yields and/or commodity prices.

This also allows our GreenStone team to plan ahead and model different income and expense scenarios that will give us an indication of what may be necessary later on to implement any required assistance once a member knows their financial results. Being prepared and able to provide the thoughtful, timely service each customer deserves is an important part of GreenStone's proactive and transparent customer meetings.

We recognize how stressful this year has already been, of which its affects will linger on well into 2020 and likely beyond. GreenStone is well positioned to work with our financially challenged members as they work to transition to better economic times. Yet, we also understand in some situations losses can be so significant that lower interest rates, interest-only payments, spreading out losses over future year payments, or any number of tools we may have to assist will not return the farm business to viability. In these situations, we owe our members our honest, balanced view and advice regarding their finances, even when it's the most difficult solution to discuss, to help our members while there may still be equity to recover. Coming to a reality of this nature takes a clear focus on what's best for the farm family both now and in the future. Ultimately, the members of GreenStone also expect us to do what is in the collective best interest of all cooperative members. Minimizing loan losses, retaining a sustainable level of capital, and preserving credit quality are all contributors to those expectations. Times like these are very challenging for both farmers and lenders. Often there are no easy answers. We pledge to give all our members honest, timely feedback in a professional, respectful manner even when it may not be what any of us want to hear.

While it is human nature to dwell on challenges, it is important to recognize the majority of our members will have average, to above average financial results for 2019. The diversity of our agricultural industry embraces the profitability and success some members saw in other commodities. Many of the core row crops were able to be planted relatively timely and received key rains throughout the growing season that should produce decent yields. Even some that were unable to plant any crop had the solid crop insurance coverage in place that will bridge them into next year. Dairy prices have been improving throughout 2019 with a positive outlook extending into 2020. Interest rates have declined and the outlook appears to be stable to possibly even lower over the next few months. In addition, GreenStone's financial performance should meet or exceed its key business plan targets for 2019, which bodes well for a solid patronage payment back to our members once again!

I share these rays of sunshine not to diminish the difficulty some of our members will experience, but rather to remind us not all is shadowed. We are blessed; keeping our mind pointed toward the opportunities is important no matter what stress we encounter. Together, let's support each other in counting our blessings and keeping our challenges in perspective. In closing, I encourage you to check out all the great information in this issue of Partners. You may find the stories on the "Depth of the GreenStone Team," "Customer Satisfaction Results," "Grow Forward Grant Update," "Crop Insurance Member Meetings," and an array of customer success stories.

Remember that we are much more than a lender! We are your cooperative, working to support your success.

We are the largest crop insurance agency in our territory and represent a variety of insurance companies to bring you more options to meet your specific needs through a talented group of specialists. Plus, we have expanded the number of CPAs in our tax and accounting team who specialize in farm accounting practices and tax laws to provide you with the knowledgeable and timely service you require. Thank you for your business and as always, please contact me directly if I can ever be of assistance.

Best wishes for a safe and productive harvest season!

To view the full article online, click here.