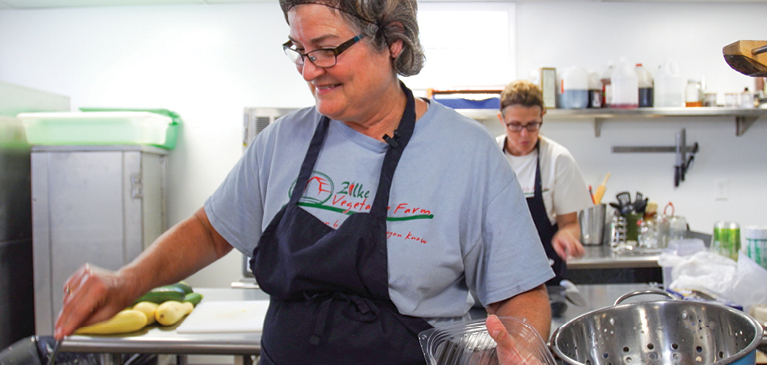 Farm businesses feed people. Managing a successful farm business to do this requires skills that go beyond farming, including accounting, financial forecasting, risk assessment, personnel management, and organization, to name but a few.
Michigan Good Food Fund is a statewide healthy food financing initiative that provides financing and business assistance to food entrepreneurs working to increase access to affordable, healthy food in low-income and underserved communities in Michigan. This includes the range of businesses that grow, process, distribute, and sell healthy food that reaches those who need it most.
Since its 2015 launch, it has invested more than $12.8 million in financing and business assistance reaching 300+ businesses, which in turn have created or retained 600+ jobs across the state and food value chain. But partners like the MSU Center for Regional Food Systems know this is just the beginning. "We're always on the lookout for Michigan-based food businesses that are making a positive change in communities," said Jamie Rahrig, a specialist with MSU Center for Regional Food Systems and MSU Product Center.
Michigan Good Food Fund: A different kind of food lender
Today, Healthy Food Financing Initiatives, like the Michigan Good Food Fund, exist in 35 states around the country. Created by the U.S. Department of Agriculture, Treasury and Health and Human Services in 2010, these programs were created to help bring healthy foods to underserved urban and rural communities by providing financing. Initially these programs worked strictly with healthy food retailers like grocery stores, but Michigan leaders wanted to do something different.
Founded in collaboration between Michigan State University Center for Regional Food Systems, Fair Food Network, Capital Impact Partners, and the W.K. Kellogg Foundation, the Michigan Good Food Fund set out to be a different kind of lender.
First, given Michigan's robust agriculture industry, the Michigan Good Food Fund saw the need to support food businesses throughout the value-chain including farms, value-added product makers, and others increasing access to "good food." "Good food" is used in the context of increasing healthy foods to underserved communities, meaning people have better access to and communities economically develop through food that is healthy, green, fair, and affordable.
They also wanted to drive broad-based change, prioritizing businesses that could demonstrate impact in the following areas including:
Healthy food access: Increasing access to healthy food to improve the health of all Michigan residents.
Economic development: Driving economic development and job creation to grow Michigan's economy.
Racial & social equity: Ensuring equitable access to food, jobs, ownership, and flexible investment capital.
Local sourcing: Increasing the sourcing and supply of locally grown and regionally produced foods.
Environmental stewardship: Encouraging sustainable environmental practices.
In this way, it was the first-of-its-kind effort working to create financial and social impact throughout the food value chain. Financing & Business Assistance for Michigan's Growers Today, through a network of lenders, the Michigan Good Food Fund is able to provide flexible, patient capital to good food enterprises ranging from $2,500 to upwards of $6 million.

Lending is bolstered by business assistance to help entrepreneurs grow their ventures and prepare for financing. Business assistance includes one-on-one consulting, group trainings, or introductions to experts in financing, farm business, or other areas of interest.

Previous business assistance for farmers has ranged from creating value-added products to financing construction of an on-the-farm commercial kitchen, to reviewing financial documents. It can work with all forms of agribusinesses from conventional to organic.

Such flexibility and targeted support make the Michigan Good Food Fund an asset for farms looking to expand. Plus, it brings integrated connections with Michigan State University Extension and faculty as well as the MSU Product Center.

Such support has helped Michigan farm enterprises including Zilke Farm Kitchen and Old World Farms.

In 2018, Vicki and Tom Zilke, expanded beyond its produce farm in Milan, Mich., to a store-front location selling ready-to-heat and ready-to-eat meals made with ingredients from its and nearby farms. Obtaining a 1,500 square foot retail space just down the road from the farm, allows the Zilke's to create value-added products like baked goods, salads, and meals for two in a new commercial kitchen constructed especially for the business. Michigan Good Food Fund financing helped provide funds for construction costs for the store-front and kitchen. Business assistance provided included setting up an online store, payroll and financial reviews.

"The Michigan Good Food Fund gave me an entire palate of resources to choose from," Vicki Zilke said as she reflected on the partnership. "They've also given me real solid, tangible support. I wouldn't be where I am today if it wasn't for them."

Old World Farms, a pasture-raised poultry farm in Saint Charles, Michigan, came to the Michigan Good Food Fund for financing. This venture, owned by Eric Shevchenko Alegria, was expanding its production for selling direct to restaurants in Detroit and obtained funds for working capital and the purchase of waterers/feeders, mobile coups, and processing equipment.

To learn how the Michigan Good Food Fund can support your farm, visit www.migoodfoodfund.org.

To view the full article, click here: https://issuu.com/greenstonefcs/docs/partnerssummer19_web/12