The massive new barn sits off the road in a wooded area. Surrounded by nature, it's just a short ride from bustling downtown Pinckney. The splendor of this barn is hard to describe; it's an amazing wedding venue; a polished rollerblade arena; a graduation party location; and an indoor baseball field.
Most importantly, the big red barn is the heart of the Schell family, and the epicenter of the Schell Family Farm.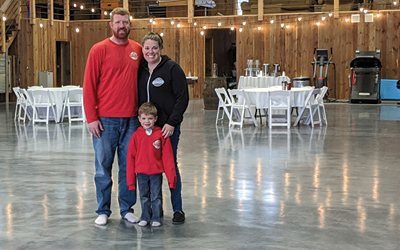 "I built the barn in 2015," says Chris Schell. "Dea designed it on a piece of paper. Most of the stuff we've done, we've done ourselves. Family and friends help, but we try to tackle as much as we can."
Dea, Chris's wife, was actually sketching a lifestyle as she scratched out a basic barn blueprint. She and Chris wanted a place where their three children (Alex, 9; Ellie, 6; Jake, 4) could play year-round, and decided to build their home at the side of the barn for easy access to the giant, knotty pine-paneled 'family room'. The business ideas for the barn came later…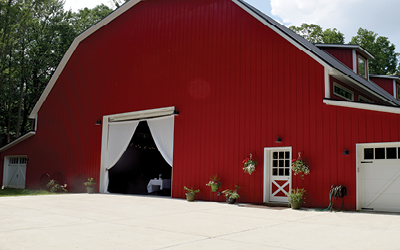 Meeting in their junior year at Central Michigan University, Chris and Dea complemented each other's vision, drive and work ethic. They started married life with full-time jobs and flipped houses on the side to save money for their dream property. Neither were farmers, but they knew they wanted acreage and they were interested in running a hobby farm.
"Christmas trees," nods Chris. "I grew up with a family tradition of choosing and cutting down our own Christmas tree, and I thought a small fir tree farm would be fun."
Dea and Chris joined the Michigan Christmas Tree Association and began to realize the amount of work that goes into running a first-class tree operation. Chris decided they might as well do it right, and after talking with a Michigan State University Extension officer, they planted 6,500 trees instead of the 1,000 trees in their original strategy.
The Schells ended up purchasing more acreage with a vacant land loan through GreenStone Farm Credit Services, and committing to a future as fulltime farmers.
"So it kind of snowballs, you know?" smiles Dea. "But we enjoy being outside. We enjoy our kids, and we want them to grow up on a farm. I grow sunflowers, we keep a few animals, we're transplanting an apple orchard – we've got a long way to go, but we've got the energy to get it done!"
James Cole, GreenStone vice president of lending in Howell, speaks of these beginning farmers with admiration. "Chris and Dea are highly organized, and had a clear vision of what they wanted to accomplish. They told me their intentions and they fulfilled their plan."
"I think that's a big part of it," admits Dea. "We always have a plan. We always do our research before we actually put something in action. We talk to whomever we need to, and we make sure that it's something that we can do. If it's not right, we figure out how to do it!"
Chris agrees. "You know, we may go full steam ahead, but we do wait until we're ready. GreenStone has been a huge part of this – they've gone the extra mile for us to say, 'we believe in what you're doing and we're going to help you get there'."
While adding to their growing Christmas tree farm every year, Chris and Dea developed the Schell Family Farm as an agritourism destination. The farm offers seasonal wagon rides, school tours, photography sessions, an Easter egg hunt, the Ghostly Grove haunted forest and trick-or-treating, a pumpkin patch, Honey Crisp apples, maple syrup, sweet cherries, plums and pears and five acres of towering sunflowers! With the barn's shining indoor space, there are lots of celebratory options for organizations and event-planners.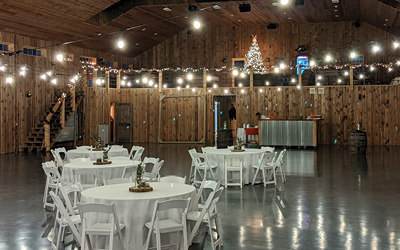 In addition to his farm duties, Chris works fulltime at a medical device business he owns and is president of the local baseball and softball youth league. Dea takes care of the book-keeping for the business, along with their house and kids, and is a partner with Chris on those farm duties.

"Yes, we're busy, but the kids can be on the farm with us and I get to hang out with my wife," Chris states. "We're in this together for the long-haul. Dea and I want to build the farm to the point where it's going to be a sustainable business, one that our kids can take to the next level and make a good living off of, if they want."

Both Dea and Chris attribute much of their success to the support from the Pinckney community, and have nothing but gratitude for the friends, neighbors and customers who have helped sustain their venture. Chris has been especially impressed with the generosity of fellow farmers who have reached out with help and advice.

The Schells entered farming with a blank slate, as people with a business background and a desire to live and work on the land. Chris and Dea have learned from the experts but they haven't hesitated to use their new farming knowledge in innovative and entrepreneurial ways. Their fresh approach has attracted thousands of families to their property, and they are gearing up for their busiest season yet.


Want to visit? In Pinckney, just look for the big, red barn.

To view the article in the online 2020 Spring Partners Magazine, click here.