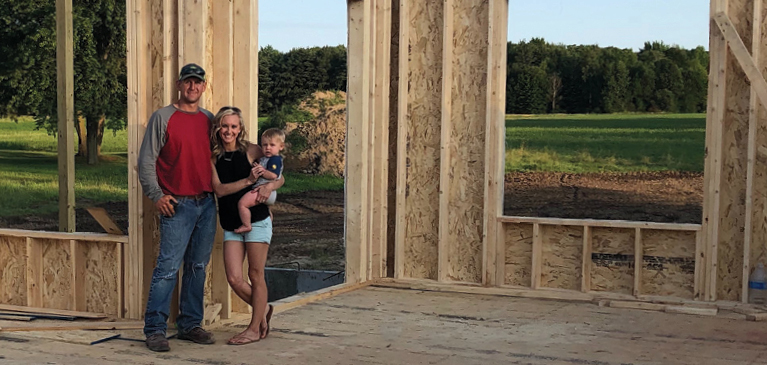 Jeff Schweiger was determined to be living in the new house he was building for his wife, Dawn, and their 18-month-old son, Luke, by Christmas. After seven months and multiple setbacks, Jeff was waiting impatiently for his Certificate of Occupancy and cutting it a little close to his goal.
On the morning of December 23, clutching the certificate and dragging a mattress, the Schweigers moved into their dream home and spent the holidays celebrating their new space – and Dawn's announcement of a new baby on the way!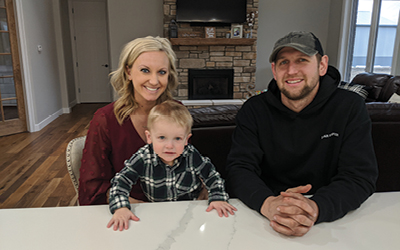 Jeff just really wanted to spend the night here, so we all hunkered down on the mattress and moved everything else in the following week," says Dawn, who was on break over Christmas from her position as a third-grade teacher.
The Schweigers had lots of help from family, during the move and through the many phases of construction. Jeff works as a concrete carpenter; Jeff's dad, father-in-law and two brothers are experienced carpenters and builders, and contributed their professional expertise and hands-on assistance to the project.

Rainy weather, the first setback, kept Jeff from working on the foundation.
"It was a really wet year and the ground was really bad," recalls Jeff. "I just had to pull the trigger and go for it in May. I dug the basement, poured the footings and built the walls. "
Jeff was deep in the heart of construction when his grandpa passed away in June, followed four months later with the passing of his grandma. As a tight-knit family, the losses were devastating.
"My grandpa and I were really, really close," says Jeff. "It was a rough year and a tough setback, but I was definitely inspired to keep driving forward in honor of his legacy."
As a do-it-yourself (DIY) builder, Jeff knew that he and Dawn would be responsible for managing all the project details that usually fall to a contractor. They spent time deciding on the type of house they wanted to build and did a lot of driving to view models that fit into their budget.
The Schweigers were told by friends that it was tough to get a construction loan to build their own house, but Jeff researched options and found GreenStone Farm Credit Services. They met with Financial Services Officer Miranda Kelle in Lapeer, and began the loan approval process. Miranda also invited Jeff and Dawn to a GreenStone construction seminar, where they were able to learn more about the DIY process.
"The construction seminar was really helpful," Jeff says. "I'm involved in the building business, but GreenStone helped us understand what we needed to do with things like draws, sworn statements and lien waivers. It could have been overwhelming without the resources they provided."
"The Schweigers had their dream home in mind with goals set to achieve it, and I was able to help them make that dream a reality," adds Miranda. "Jeff and Dawn asked great questions and really committed to learning about the construction loan process. With their attention to detail and willingness to learn, my job was made easier. The Schweiger's are not only great customers of GreenStone, but they have become great friends and a prime example of the people we serve."
Jeff and Dawn quickly learned both the upside and downside of DIY. They enjoyed tweaking the architect's plans to reflect what they both wanted in their dream house, which included an extra-large garage, a big kitchen island, moving the bedroom windows and even creating a large playroom out of empty space above the garage.
The downside? It was frequently difficult to find and schedule sub-contractors who had the time available to do the projects that were outside of Jeff's expertise. Dawn took on the role of designer, and spent many hours choosing paint, tile, flooring and cabinetry.
"It was fun," she comments. "But it was also very stressful visiting paint stores, comparing prices and making decisions with a toddler along!
"When you are doing it yourself, you have a vision, but you don't know how the room's going to look when it's done," Dawn adds. "Will the tile match? Will the colors flow from room to room? I spent a lot of time on Pinterest."
Both Jeff and Dawn agree that building your own home is like having an additional job, and planning should optimally begin a full year before ground is broken.

"A year in advance, pretend you're going to begin to build in six months. There's always something you're going to miss in the planning process, and this way you'll have an extra six months to pick up the pieces and get it figured out," advises Jeff.

If given the chance at a do-over, would the Schweigers make any changes to their finished dream home?

"We've had a few people ask us that," Jeff answers. "And I'm happy to say, we wouldn't change a thing."

To view the article in the online 2020 Spring Partners Magazine, click here.