President and CEO Dave Armstrong on Looking Back, Growing Forward
In 2000, the year of the first merger and the rebranding into GreenStone, we had just come out of the worst farm economy since the 1930s. The 1980s were farming's great recession, and at the time, the Farm Credit System was not organized to withstand that kind of adversity.
In Michigan, the numerous offices were basically separate financial systems. Farmers would come to one for their short-term financing needs, then if they needed a land loan, they would have to go to a different office, or even another town to obtain a real estate mortgage. Our whole system was built in silos to do these very specialized things.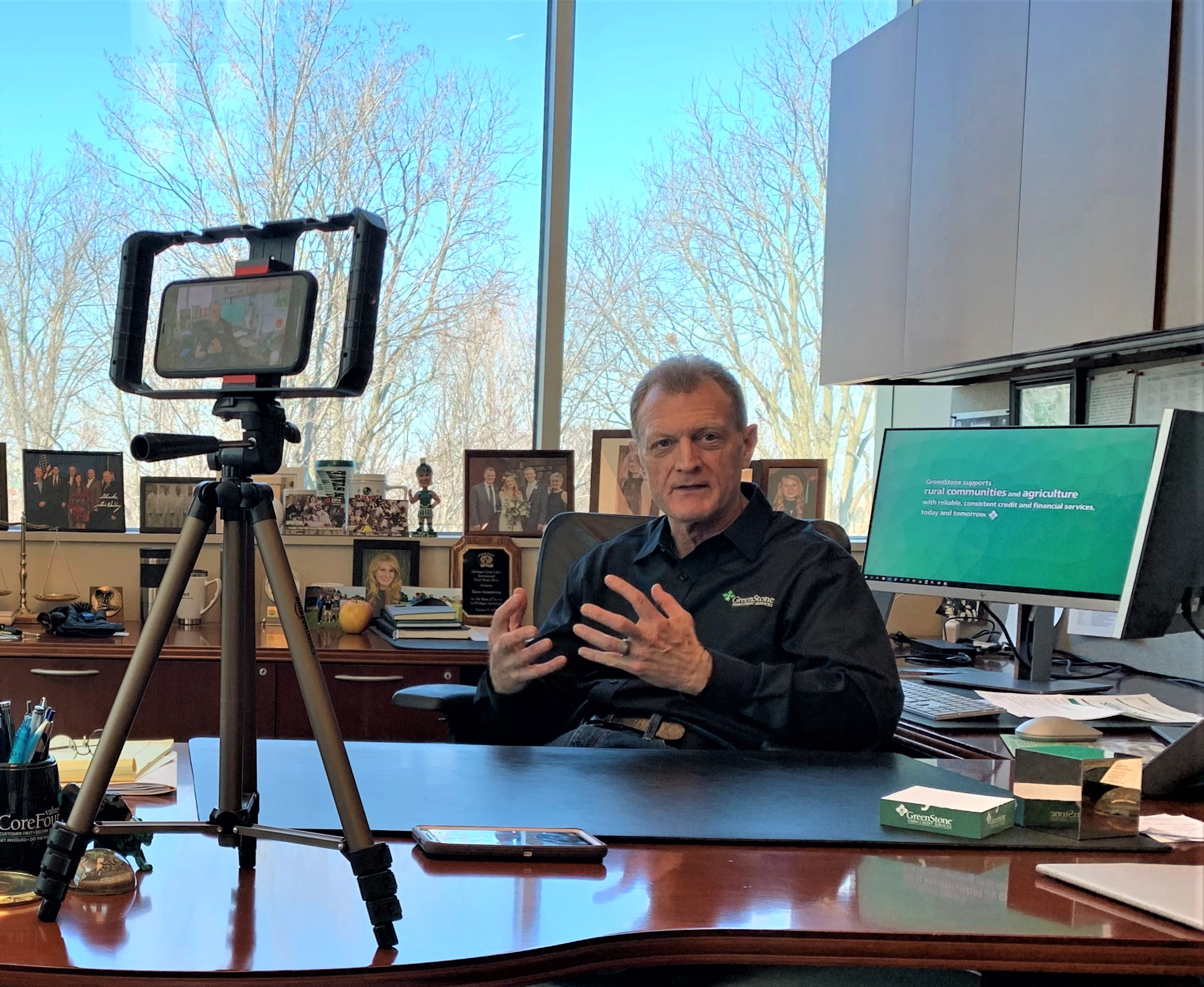 You couple some of that inefficiency with some of the ways that we were funding our wholesale loans, and then tie in this very difficult economic period – it was horrific. We didn't have many of the risk management tools that we have today, and as many of our members remember far too well, America almost lost the Farm Credit System – among so much other devastation – during the eighties timeframe.
The perfect storm

To hedge against precipitously rising or falling interest rates, producers weren't able to lock in long-term rates. We only had one centrally variable rate; I can remember when prime rate was 21.5% in 1981. The federal government stepped in and generally increased interest rates all over because they wanted to kill inflation.
Up until that point, through the seventies, much of farmers equity had been rising. Inflation had been increasing their real estate values dramatically every year.
So a farmer would come in and the Farm Credit loan officer would look at their cashflow and balance sheet, and say "well, it looks like you lost money, but geez, your land value went way up because of all the comparable sales!" And we continued to lend money under a false pretense, until President Carter's grain embargo of 1980.
We wouldn't sell wheat to the Soviet Union and that drastically disrupted our markets. Altogether, the confluence of our System inefficiencies, the inflationary economy and global politics formed the 'perfect storm' and created a very difficult time in agriculture.
Through that period of time, the Farm Credit System had to go through a lot of self-survival activities, many of which regrettably also had huge impacts on our members.
Internally, one of those tactics across the nation was to consolidate the businesses. We merged all of these disparate entities--land banks and PCAs and banks for cooperatives--into what ultimately became known as Farm Credit associations. For us, that was our rebirth into GreenStone Farm Credit Systems.
Today, GreenStone can write a real estate mortgage loan to a farmer in the same office as his machinery loan, along with home mortgages and recreational land loans for any rural consumer. We incorporated more long-term fixed rate options for our customers so they were not exposed to rapidly rising interest rates over time. Changes were made to asset liability management practices. And, we offer services that support a farmer's entire business. Crop insurance was improved to give our customers better options to mitigate weather and price anomalies, and tax and accounting services help provide tools for customers to evaluate their bottom line.
Survival via partnership

There were four "GreenStones" serving Michigan's lower peninsula: Farm Credit Services of Southeast Michigan, Farm Credit Services of West Michigan, Farm Credit Services of Michigan's Heartland, and Farm Credit Services of East Central Michigan.
At the time leading up to the merger, I was the CEO of Farm Credit Services of East Central Michigan. Across the country, the federal regulator was concerned that the protected territories, which we still have to this day, would cause the associations to be complacent and wouldn't force the additional post-recession changes the government felt was necessary to serve the future of the agricultural industry.
Listening to points made by the Farm Credit Administration (FCA), the four Michigan associations were concerned because we had built such good partnerships with each other over the years. So with FCA looking to make the environment more competitive, we tried to think of what we could do proactively to prevent the four entities from devolving into a bloody tooth-and-nail competition, undercutting each other with things like below-market rates, which would have ultimately been the demise of any Farm Credit associations.
The four CEOs began discussions with the four boards – comprised of elected members just as ours is today – about the cost savings and increased effectiveness we felt was possible with a merger. Part of that discussion was the scale four merged entities would bring, and the capacity to hire more industry expertise. Our people – our teammates – and our ability to most effectively serve members was at the core of each decision we made as part of the merger, a foundation we stand on yet today. The impact to our staff weighed heavily on our actions, and we were fortunate to come together, embrace change, and create an even stronger team.
Ultimately, as we look at where we are today, it's safe to say the boards did the right thing. They set their own personal roles as board members aside and decided to merge and downsize the board seats, going from four boards to one.
And that was the genesis for what we know today as GreenStone. At that time, we were the only Farm Credit associations that had come together willingly for the right reasons, instead of a regulator forcing a consolidation or a closing.
Transition leadership

As part of those merger discussions, we had to have a lot of transition conversation among the four of us CEOs and I think it worked out well simply because we were all very candid about what our expectations were, individually and professionally.

The timing ended up working out for Jim Bremmer, who had been the CEO of Farm Credit Services of Michigan's Heartland, to make the decision to embrace retirement at the onset of the merger, and Carl Jessen, who had been CEO of Farm Credit Services of West Michigan, became GreenStone's first CEO. He was able to lead us through the first year and a half of the merger before his retirement. Carl was followed by Jim Schiller, who entered into the merger having served as the CEO of Farm Credit Services of Southeastern Michigan and was actually the person who hired me as a summer intern!

I was the youngest of the four, and the least experienced, so I kind of knew where I stood in the pecking order. I cut my teeth running financial services for GreenStone – all of our branch offices and the marketing arm – everything that touched customers, which is where my passion has always been. It was a great role for me, and it gave me a lot of different experiences around a much broader territory.

It was challenging, but just a lot of fun as well. When Jim Schiller decided to retire years later, I applied and was fortunate to be hired as CEO in 2009. Looking back, my proudest accomplishment over the past 20 years is the part I had in helping bring GreenStone together. We positioned the company for the future, and going from $1.6 billion in 2000 to almost $10 billion in assets today is a really good indication we made the right decision for the right reasons.

I am grateful for all of the blessings we have. We have more than any of us probably deserve; I'm no happier today than I was when I was a loan officer. I think you have to have gratefulness as your base, because life can always be a lot worse. We can influence and we can be prepared, but there is still much we can't control.

I've been successful because I've always tried to hire people who are smarter than me. I'm blessed to have so many bright, talented people, past and present, to work with at GreenStone. I don't believe in coincidences; we are here together because we have an affinity for the people that we serve. We have the same kind of DNA at GreenStone, whether you have a farm background or not, and we're servants at heart. We want to help people with the expertise that we have, and that they need. When you're able to do that, that's really what it's all about at the end of the day.

To view the article in the online 2020 Spring Partners Magazine, click here.