In 1966, Jim and Germaine Matsche started their Birnamwood, Wisconsin, farm with just two milk cows. While raising six children, they slowly grew the operation. By 2000 they were at about 300 milking cows when they added a double 24-parallel parlor and began an extensive expansion.
By 2014 they were milking 2,200 cows three times a day, around the clock taking a toll on equipment. The family knew it would need to make some significant decisions for the future.
The second generation, Scott and Carrie Matsche, are the current owners of the farm and now their three sons Chris, Ryan and Kyle, as well as Chris' wife Heather, two nephews, Tyler and Brandon, and a niece, Nicole, are involved with the operation. Everyone is well-rounded and has their place on the farm, Heather says, from shop work and working in the fields, to tending cows and working in the office.
"The old parlor was getting a lot of wear and tear," explains Heather, who wears many hats but is mainly involved in the farm's accounting, human resources and public relations.
They investigated new technologies, including robotics, and also the idea of revamping the old parlor. Ultimately, with input from their team of experts, including their financial partner, GreenStone, they decided on building an 80-cow rotary parlor and a 4,000-cow freestall barn, which was started in 2015 and operational in 2016. The barn was finished in 2017.
Along with the milk cows, they raise all of their calves and heifers, as well as forages on 6,000 acres.
GreenStone has been their lender since 2000. As the operation grew, Carrie says, "We went with GreenStone because our bank wasn't big enough and GreenStone was more knowledgeable about farming."
Tax, accounting and payroll services
With the new expansion and their accountant wanting to retire, the Matsches also decided to benefit from GreenStone's tax, accounting and payroll services. "This allows us to have everything with one company, and it streamlines operations and allows us to easily understand our current position and projections for the future," explains Carrie, who is gradually transitioning her accounting duties to Heather.
Data is entered in Quickbooks and a monthly backup is sent to Eric Vandivier, senior tax accountant out of GreenStone's Little Chute, Wisconsin branch. "I categorize expenses and Eric reviews them to make sure everything is in the right category," Heather says. "If there's something wrong, it gets fixed, and sent back to us."
Vandivier says, "I look at their records and break it down into reports," he says. "And I work with our lending department to supply a lot of information to fulfill their requirements, whether it be balance sheets, or profit or loss statements or if it's capital asset schedules or tax returns."
While both departments are under the same GreenStone umbrella, Vandivier says the information is kept confidential and customers must sign disclosure forms for information to be shared. Once that's done, a lot of information can flow back and forth, he says. Using GreenStone's tax and accounting services allows farm owners to move quickly on financing if necessary.
Daniel Gitter, GreenStone's vice president of commercial lending who works with the farm, says open lines of communication benefit all. "By providing good quality information, we are providing valuable input into decision making. Whether it's how we structure a loan or the timing of a capital purchase. All of this helps to come to a mutual conclusion everyone is happy with."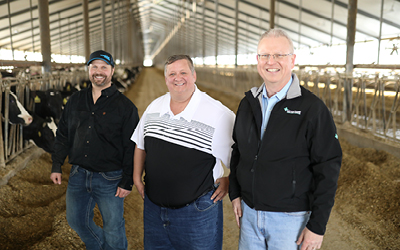 Dan Gitter with the Matsche Family.

In addition to monthly meetings, there also is an inclusive, team meeting quarterly. "We bring in all our vendors, from the person who's going to service our dairy equipment, to our agronomist, to our nutritionist and those involved in our breeding program," Heather says. "Dan (Gitter) and our dairy consultant help run the meeting to report on how things are running and to tackle any issues."

Even though it's a large dairy, it's still family owned and oriented – that means there's always food at these meetings, including Carrie's famous clam chowder.

To help in decision making, GreenStone also offers some benchmarking through its credit department. "As an example, we can anonymously group 500- to 1000-cow dairies and show you how you compare to the rest of that peer group. Is your production lower than normal or is that higher? Maybe a farmer needs to look into lowering his cost of production, or maybe his feed expenses are too high," Dan explains.

Looking ahead
For the future, Heather says the farm is looking into manure digesters. "We are committed to reducing our carbon footprint and being environmentally sound. We're getting insights from the staff at GreenStone and seeking advice."

Carrie adds, "We value the opinion of our lenders. And Scott and Dan have a great relationship. They text a lot. And Eric has been great to work with. It's not always just about business; they've become like family. I've recommended GreenStone to other farmers."

Scott says he enjoys working with knowledgeable people that understand the farm, everything from buildings and land to equipment.

Most recently, GreenStone assisted with the national Paycheck Protection Program, which helped the farm pay employees when milk prices plummeted during the onslaught of COVID. And, as the farm began transitioning to the next generation two years ago, GreenStone offered resources to help with the process.

While the operation, with about 50 fulltime and 30 seasonal employees, has continued to advance and grow, the Matsche family is most proud to be farming as a family, in which they include their employees.

Scott and Carrie now have 11 grandchildren. "My grandkids get off the bus here, and they'll come right to the office," says Carrie, who calls it a blessing to be a part of their lives. The Matsche's think there's a pretty good chance their dairy legacy will continue.

To view the article in the online 2021 Spring Partners Magazine, click here.