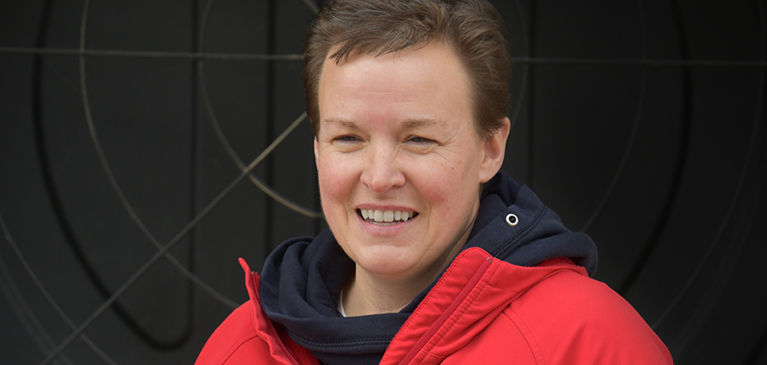 Five years ago, Jennifer and Phil Dougherty were in their early 40s with four kids, and financially stable with two self-employed careers. Some might have called them crazy to venture off into the capital-intensive, start-up turkey business – they saw it as an opportunity.

They had some experience. Jennifer grew up on a dairy and turkey farm and Phil, the son of a pastor, worked in the local feed mill and was a laborer on area farms growing up. They both loved the idea of farming, but as young adults, the opportunity and ability were not there. So, off to college they went. Jennifer got a degree in civil engineering, while Phil became an electrician. They married in 1995 and settled on 40 acres in Alto, Michigan, just a mile from the farm where Jennifer grew up.

"Growing up, I always enjoyed farming with my dad, (Bill Wieland), but when Phil and I were out of college, Dad wasn't ready to retire. So, we figured farming just wasn't in the cards for us and went on with our careers."

Jennifer's mom, Carol Wieland, passed away in 2000, which prompted her dad to look at what he wanted to do to retire.

At that time, Jennifer's younger brother Chris Wieland took over the farm, which in the late 1980s transitioned out of dairy and into contracted turkeys.

Life was humming along when the prospect of becoming a turkey grower presented itself.

Michigan Turkey Producers, a co-op formed to fill the processing need in Michigan, was looking to add more turkeys. A contract was extended to Chris, but he didn't want to expand the full amount allotted to him. "He asked if we were interested in growing turkeys – that's how it all started," she says.

Decision time

The process started in 2015. Their 40 acres was enough for a smaller operation. "We said, you know, if we can get funding, if we can get everything laid out, if we can make it all work, then it was meant to be – we'll go for it," Jennifer recalls. "That's kind of how we rolled with it the whole time."

Being already self-employed, Jennifer says it helped because they were used to dealing with self-employed salaries. "When money was available, you had it; when it wasn't, you worked around it," she says.

There was a precedent in her childhood, Jennifer's father – who also had four kids in high school and middle school at the time – made a bold move to sell his cattle and start growing turkeys. "He totally changed his life path – we had seen it happen and be successful," she adds.

But, could they get the financing?

"The startup costs were just so phenomenal; no one was interested in lending except for GreenStone, because they understand the logic and dynamics behind farming," she says. "You have to run all the numbers for it to make sense."

Today they work with GreenStone's Collin Nurenburg, their financial services officer in the Ionia branch.

"They were detail oriented, honest and forthcoming with what they wanted to do," says Nurenburg. "We helped finance site work, the turkey barns and other structures they started in 2016 and ended in 2018. We also secured a full year of operating credit for them."

They built three 60-by-500-foot grow-out barns, a 50-by-200-foot brooder, as well as a shop and manure building. In a year, they cycle through 8.6 flocks of about 8,700 birds each for an annual production of about 75,000 turkeys. Birds arrive at one day old and grow out to about 19 to 20 weeks.

"We couldn't be happier with the service and financing we received from GreenStone," Jennifer says. "Collin called to check on us when COVID-19 started to make sure things were going well and if we needed anything."

With the market disruptions caused by the pandemic, "We increased our line of credit just in case things went really bad, so we were prepared. Thankfully, we haven't needed it," she adds.

Up and running

While Jennifer already knew quite a bit about raising turkeys, she's quick to admit there was still a huge learning curve. They attended meetings, they observed, they asked a lot of questions. "The other farmers in the co-op are very good about sharing information," she explains. "Many of these growers have been doing this for decades, generations; they are such a wealth of knowledge."

The couple runs the operation themselves; Phil quit his job as an electrician to become the full-time farm manager. "But, as we were designing and building, it was pretty great to be able to draw on our skills as an electrician and civil engineer," adds Jennifer, who maintained her job, but manages the paperwork for the farm.

She also does chores on the weekends, bringing another perspective to the operation. "By being there only on the weekends, I can give a fresh set of eyes on the barn and on the birds," she says. "Phil and I bounce ideas off each other, and we sometimes look at things differently, so it's a nice balance. We complement each other well. In the last three years we've figured out how to make suggestions and how to work together without driving each other nuts. It's a balancing act, but it's worked extraordinarily well so far."

Being a civil engineer, she's used to being in a largely male-dominated field. "I'm used to there being only one or two women in a meeting of 25," she explains. "Luckily, everyone in the ag industry has been very accepting because you know their wives and daughters help run their farms, too."

The Doughertys' oldest daughter Ella, 19, was part of the farm operation growing up, but is now studying to be a physical therapist at Trine University in Angola, Ind. Their other children, Sam, 17, a senior at Lowell High School, Maeve, 15, a sophomore and Caleb, 10, a fourth grader, help out as needed when two sets of hands are not enough.

The biggest challenges on the farm are keeping all the pieces and parts moving, while keeping disease at bay, according to Jennifer. From sourcing shavings to selecting water treatments, it's about keeping the birds healthy. "There's always a lot of stuff percolating, and like I've been told, turkeys are always looking for ways to get sick. So, you must look for and solve a problem before it happens. It's amazing how you can stand in a flock of turkeys, listen and look, and you can tell if they're feeling good or not."

For right now, Jennifer and Phil plan to stay the course, and continue to improve efficiencies and animal health. "We're doing everything we can to keep them healthy and happy. For Phil to work full time and me part time on the farm, that's a nice fit. It's hard to say what the kids will want to do."

To view the article in the online 2021 Winter Partners Magazine, click here.