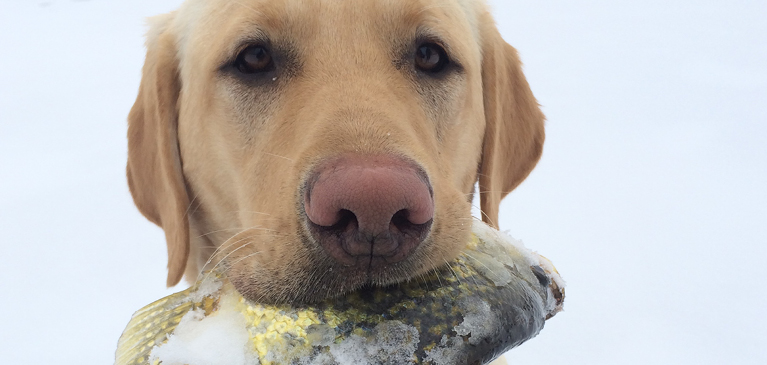 Every fall I spend countless hours chasing whitetail deer. Whether I'm hunting myself, or filming someone else, I generally spend more than 75 days in the field throughout the fall and early winter. As the days get shorter, and the mornings get colder, my mind starts to wonder to all of the things I have put off around home in order to spend more time in the woods.

By the time January rolls around, I'm ready to spend more time at home. I use those first couple of weeks in the new year to recharge my batteries and to get caught up on home projects. Nevertheless, after a few weeks I begin to miss deer season and start getting the itch to get back outdoors.

After months of being away from home more than not, my free time in the winter is pretty limited. So, over the years I have figured out ways to still enjoy time in the outdoors, but also make sure I'm home for dinner. Though I do like to take part in the occasional rabbit or predator hunt, I find that I end up ice fishing the most this time of year. It's not that I'm an avid ice angler or even that I'm overly passionate about it, what I like most about it is that it's simple and doesn't have to take up a ton of time.

For me, ice fishing is a good way to spend a few hours outside and have a chance at some excellent table fare if I do manage to land a few fish. Ice fishing can be a fun way to spend time with family. Whether that's bringing one of the kids along, or just getting the pup some exercise, ice fishing can provide a way to scratch the itch to get outside and also spend time with the family.

The gear needed for ice fishing is pretty simple as well. Yes, like any other outdoor hobby, you can spend a lot of money on fish finders, rods, etc., but you certainly don't need to. All you really need is a good auger, a sled, a bucket, and some basic ice fishing tackle. For no more than a couple hundred bucks, you can have everything you need to enjoy some time on the hard water.

With lots of public access around the state, there are plenty of places to fish. Find a boat launch, load up your sled, and you can walk just about anywhere you want to! Lastly, it's always a good idea to call your local bait shop to get up-to-date ice conditions to ensure the ice is thick enough. It's also a good idea to fish with a friend, just to be safe!

Nothing replaces deer season, which is probably a good thing for my marriage and work life, but I really do enjoy my time on the ice. If you're looking for something to do this winter, you just might want to try ice fishing. It doesn't take a ton of gear or time and it is a great way to spend time outdoors in Michigan and Wisconsin!

To view the article in the online 2021 Winter Partners Magazine, click here.