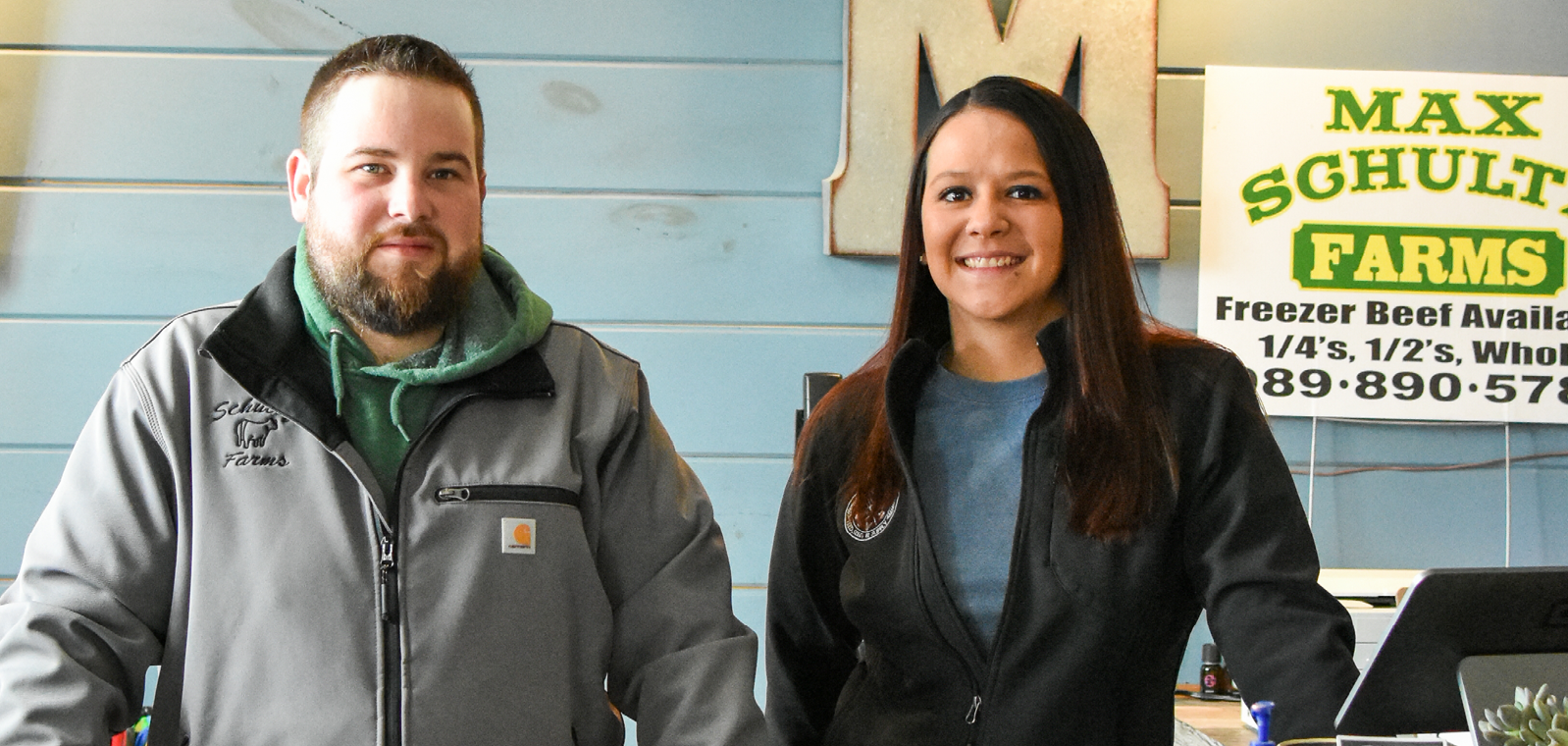 BAY CITY, MI - Max and Halie Schultz had a problem, and they had an idea of how to fix it. They had a lot of animals to feed, but it took a long time to go everywhere to get all the supplies they needed.


"There were no feed stores in our area near us, and I was spending one day a week picking up feed from different cities, trying to find what I wanted, and we thought – we might as well make this convenient for ourselves," Halie said.


They owned an old antique shop on M-15, and they already had been selling deer feed to hunters out of it since 2015.


"It got really busy selling deer feed, and then people started asking for chicken feed and horse feed and all sorts of supplies, so it snowballed," Max said. "We decided to rebuild the entire place and turn it into a store."


Along with the help of friends and family, they took on redoing the entire place themselves. They gutted it, put steel on the outside and inside, poured concrete, and revamped the entire building. H & M Feed, Seed, and Supplies was ready to open.


Unfortunately, they were ready to open in February 2020, right when the pandemic hit. But after a brief interruption, they opened the doors on October 30, 2020.


"Now Halie runs the store, and I take care of the farming," Max said.


Life plan
Max grew up on a cash crop farm, and now the Schultzes raise their own crops and livestock. They grow corn, soybeans, hay, wheat, and sugar beets. They market their own feed through the store, and they're also a Kalmbach and Tribute dealer.


They also have been increasing their livestock. They began with cattle, and now they also raise 35 head of pork a year, and 200 meat birds.


"We raised 40 for freezer beef last year, and we hope to do 60 or 70 next year," Max said. "We're also going to try and get USDA certified so we can sell in quantities smaller than halves or wholes."


Selling beef direct to consumer through their store has been a great market for them.

"It keeps growing and growing every day, and with the price of beef blowing up, it's been overwhelming," Halie said. "Lots of butcher dates to find!"


The Schultzes didn't stop with the crops and livestock. Since things were so busy, Max left his day job in August 2021 to work on their business. They continue to add more choices for customers.


They maintain a greenhouse for flowers, so they can produce their own items to sell. They have a specialty chick day, where they take orders on chicks and run specials on their seed. They sell Amish buildings, chicken coops, gardening supplies, and items like soil, mulch, corn stalks, Indian corn, and much more.


"It's a lot of inventory to keep in order," Halie said. "I've worked in customer service, but I've never owned a business. What I realized is that you have to be six months ahead of everyone else, because you need to order supplies. It might be spring, but you're focusing on fall."


Relationships
Johnny Thompson, financial services officer in GreenStone's Bay City branch, admires the Schultzes' entrepreneurial spirit and attention to diversification.


"We have a really good relationship," Johnny said. "First of all, we both have beef cattle, and if you get two guys talking about beef cattle they usually don't stop – myself included. But really, I like the way they have diversified and market their crops. Not only did they open up the storefront, but they worked with a lot of other gas stations, meat markets, and local businesses to sell their products. This way, they're not as subject to the market value for commodity prices. It's really made them successful."


Johnny also thinks they have done a great job growing their business.


"Max has worked his way up and made his own way," Johnny said. "He lives in a place where dirt is expensive, and it's impressive the way he's been able to do what he does in that area without the head start of already owning land. Because of the difference in the way he markets his products, he's been able to vertically integrate in an effective way."


The Schultzes have had a good experience working with GreenStone, and Johnny in particular.

"Johnny's great," Max said. "He answers every phone call, and he wastes no time in getting everything done. He's awesome."


Overall, the Schultzes enjoy the farming part of their job, plus the challenge of owning an agricultural business.


"We're young, and we're customer-based people, and pretty much everything is grown and raised locally," Max said. "We have lots of support from friends and family, and we've had the same customers for the last five years. Plus, it builds every day."


To view the article in the online 2022 Spring Partners Magazine, click here.