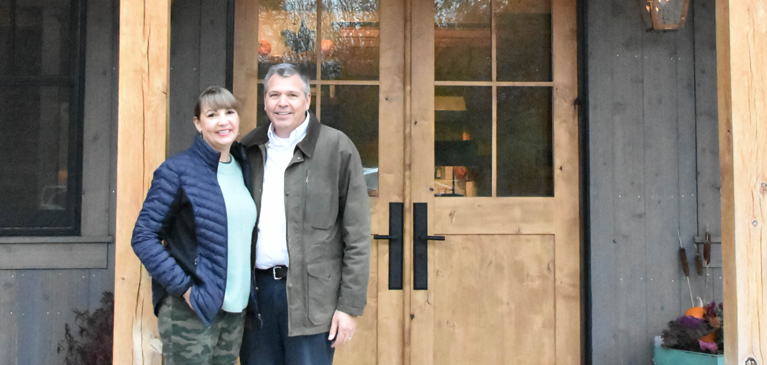 Tom and Robbin DeMeester had been actively looking for land to purchase for some time. Even before they sold their family home in Ada, they'd been searching for a large place that wasn't clear-cut farmland. They wanted something with some character, trees, and maybe even water.

While driving around the area, Tom spotted a wooden sign.

"I think the only reason this parcel was available is because it was for sale by owner, and the wooden sign had fallen down," Tom said. "I saw it amidst the roadside trees and thought – I wonder if it's still for sale? I made the call, and odd as it was, the seller was a guy that I went to high school with."

Tom, a manager at Greenleaf Trust, and Robbin, a Forest Hills Central High School teacher, planned on downsizing their living space and upsizing the property around them. The almost-25 acre plot seemed just right. Now, they had to start the process to finance vacant land.

"I had seen the billboards for GreenStone that referenced land loans, and I knew conventional lenders didn't focus on that," Tom said. "It's a specialty service to provide financing expertise tied to vacant land. I reached out to GreenStone in December 2017, Devon Feldpausch was the individual that followed up, and that started our journey."

Devon Feldpausch, a financial services officer who also started his career with GreenStone in 2017, dug in and worked through all the details with the DeMeesters.

"Tom and Robbin were some of my first customers," Devon said. "I'm blessed to have worked with them. The first closing
I was getting married. The second closing my wife was pregnant. We've been through a lot of life stages together, and at this point they feel more like family. Honestly, you're not just a number here...I don't remember the last time I haven't chatted on the phone with him without the call ending in a smile."

Starting out
The property in Ada, Michigan was a split off of a larger parcel, and as a result, it needed a lot of work to make it buildable. First, there was the clearing.

"There were quite a few trees on it, so the next step was we had to cut in a roadway," Tom said.

"It was quite the endeavor," Tom said. "My son-in-law, my son and I forested the property, which included taking down 125 trees, and cut the drive in. We used a road builder to install what the civil engineers developed."

As with most building projects, it became more involved along the way. The road had to be 18 feet wide, have culverts, correct drainage, grading, and they also encountered unstable soil.

Building the Better Life
In February of 2020, Tom and Robbin began the construction of their home.

"With the road being more involved than we had anticipated, we pivoted and decided to build our home as a barndominium," Tom said. "Again, that was something that was a little unique, and GreenStone had more of an appetite for that than another lender would have."

Working with J. Visser Design out of Grand Rapids, the DeMeesters built a timber frame barndominium. They also designed the home to be energy efficient. They used structurally insulated panels (SIP) which have a foam core that creates a tight envelope for the building.

"We were very conscious as we built this to preserve the exterior envelope of the home," Tom said. "We didn't even run electrical through the outside walls – we ran it in the interior."

The home also has radiant floor heat, and everything is tied to a radiant hydronic system, which means there isn't any duct work or forced air. They have supplemented the radiant system with mini-split systems, so each room has its own ability to run air conditioning or a heat pump. This has allowed them to keep the perimeter of the home very efficient, as well as preserve a great view.

"Because of the timber frame and SIPs, we've been afforded the freedom to have open, expansive views. It's a unique building," Tom said. "Ninety percent of the time, it's just the two of us, but we built large common areas that allow space for our expanding family."

Tom said he and his family enjoy visiting around their 750-lb, 12-seat table made of reclaimed beams from a company in England.

"It's the centerpiece of our home, and it's the central gathering place for our family," Robbin said.

Ada journey
The property has beautiful, rolling hills, lots of trees, and is surrounded by a stream at the bottom of a ravine. They overlook the Grand River. The DeMeesters have developed trails on the property, and they're landscaping their yard over time. Robbin started a small garden, and next season they're building a raised bed garden.

Their daughter, Emily, son-in-law Spencer, and grandsons Grayson and Hudson are planning on building on one of the other spots on the property. Their son Jared and daughter-in-law Jessica currently enjoy living in Chicago, and everyone knows they have a spot if they move back, too.

Tom has enjoyed his years working with GreenStone.

"I say it's a journey with Devon, because we really started this in December of 2017 and took occupancy of our home in June of 2021. Over that timeframe, we got to know quite
a bit about each other. We've met in person several times, Devon started a family, I had a grandchild, and we shared many life events."

The DeMeesters look forward to many happy years enjoying their home and property.

"Working with Devon and the rest of the GreenStone staff exceeded our expectations, and we love the end result," Tom said. "We've built homes before ... but being part of this specific process, having the right setting, and working with the right people, has been a very good experience."

To view the article in the online 2022 Winter Partners Magazine, click here.