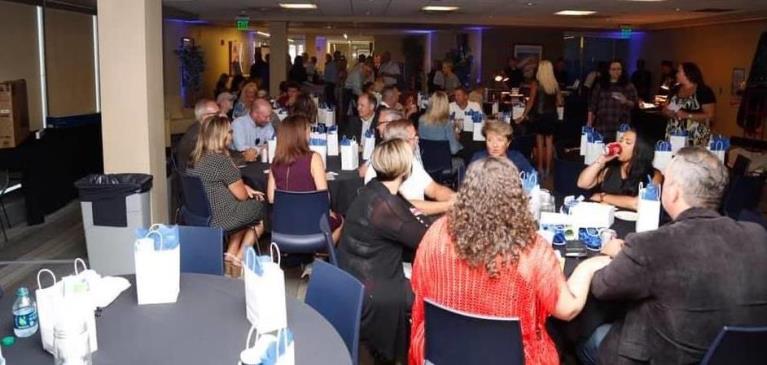 What do speed painting, black jack, silent auctions and race cars all have in common? They all brought the community together to help local youth on Friday, August 9, at the 2019 Michigan International Speedway (MIS) Charity Dinner Presented by Consumer's Energy.

The event was accompanied by an evening of fun, casino games, silent auctions, professional Nascar drivers, David Ragan and Darrell 'Bubba' Wallace, and Detroit Red Wings legend, Darren McCarty. Guests enjoyed a professional speed painter complete a racecar masterpiece during the event, which was later contributed toward the silent auction. All of the proceeds raised at the event helped local families and youth in the communities through one of three organizations.

"This year the net proceeds from the dinner were equally distributed to MIS Cares, Patient Immediate Needs-Cancer fund and ProMedica's New Boundless Playground," explains Karlie Newman, MIS employee and event coordinator. "The event is a way for people who aren't necessarily interested in racing to give back and an opportunity for community members to talk with others they normally wouldn't. Just being able to give back and support our community is the ultimate goal."

The MIS Cares is a donor advised fund of the NASCAR Foundation with a goal of promoting the success of youth in surrounding communities by awarding scholarships and grants. To be considered for a scholarship, the student must be a high school senior at Jackson, Lenawee, Hillsdale or Washentaw County and plan on studying a STEM-related field after graduation.

The Patient Immediate Needs-Cancer fund at Henry Ford Allegiance Health focuses on helping cancer patients and family members by assisting with treatment-associated costs. After just six short years, the fund has already provided aid to nearly 900 patients and by raising $120,000.

To help the 5,000 individuals with disabilities who do not have access to a safe, inclusive playground, the Charles and Virginia Hickman Hospital and YMCA Lenawee ProMedica Wellness Center created a movement to fund one. With funding assistance from the night, the playground is one step closer to completion.

As a firm believer in giving back, GreenStone takes pride in promoting the academic success of youth and the health and wellness of members in the community. The cooperative was grateful for the opportunity to be a table sponsor at the dinner and excited to support the regions we live and work in.

"GreenStone and its staff assist with many local events to support and inspire members in the communities we serve. We take great satisfaction from helping others by either committing our time, effort or funds to our communities to make it a better place for all of us," says GreenStone employee, Erin DuBois. "MIS Charity Dinner is an excellent and fun event to be involved in to give back to our community!"

For more information on Michigan International Speedway and upcoming events, visit www.mispeedway.com.