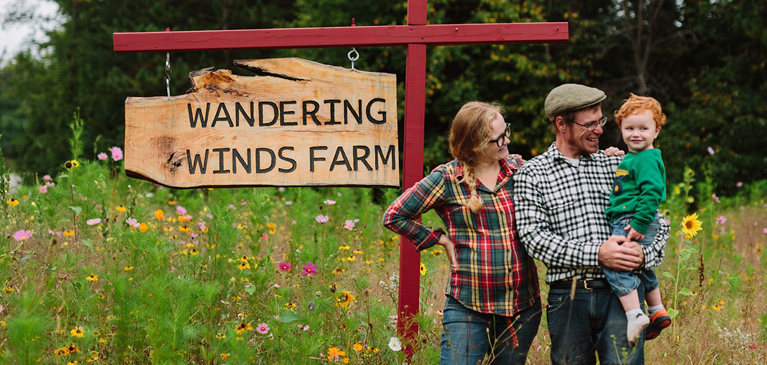 Whether you are interested in producing fruit or fungi, taking on the challenge of entering agriculture can be daunting, yet rewarding. Just ask full-time father, farmer and owner of Wandering Winds Farm, Adam Beckta.

At just 20 years old, Adam graduated from culinary school and began working in professional kitchens throughout the country. After years of creating delicious masterpieces with specialty ingredients, he found himself intrigued by a slightly different career pathway- food production. Pairing this vision with his previous work experience in specialty food and beverage retail, Adam and his wife, Madeline, moved from Chicago to northeast Michigan in 2015 to be closer to family and put their farming dreams in motion.

Starting a new business goes hand in hand with perseverance, hard work and risk; but, in agriculture, that's an understatement. With this in mind, Adam takes full advantage of available resources to help pave the way for his farm's future success, like GreenStone's Grow Forward Grant program. The grant, available to both GreenStone and non-GreenStone members, provides financial assistance to young, beginning and small farmers who are interested in educational programs to better their farm.

Adam utilized the grant last winter to take two courses, Whole-Farm Management and Permaculture Design, at Oregon State University. Through these online courses, he gained valuable insight on management tools for his farm and earned his Permaculture Design Certificate. Adam will use his new knowledge to create a more sustainable and environmentally conscious business plan for Wandering Winds Farm, where they grow specialty mushrooms, fruit and seasonal produce. Adam and Madeline also create homemade jams, jellies and scented hand salves to sell online, at local farmers markets and to select retailers.

"With this permaculture certificate I now have a base level of knowledge that is internationally recognized. It allows me to do consultations jobs, design jobs for other people, but also I now have an 80-page plan I generated for my own farm and what I want to do over the next 20 years," Adam explains. "I wouldn't have done that if I had never taken a class that made me sit down week by week- it has been super helpful for the work we do here."

For new farmers, the grant is a valuable tool used to strengthen business and offset education or consulting costs. For Adam, the grant is also a way he can give back and educate members in his community. Although he has only been farming full-time less than four years, Adam is using his knowledge from educational courses and food expertise to cultivate his community. He spoke at the 2019 Alcona Small Farm Conference and led three workshops at the Harrisville Public Library this summer to educate and spark an interest in local agriculture.

Adam's goal is to help others get their start in farming and ensure they have the necessary tools to succeed. "There are a lot of people who want to do things in agriculture but aren't sure how to get started. We are creating a movement from the ground up to add structure to that."

GreenStone's Grow Forward Grants offer up to $1,000 for current members and up to $500 for non-GreenStone members. Adam encourages farmers who qualify as a young, beginning and small farmers to apply for the grant and take advantage of the program.

"There's really no downside to applying," Adam says. "If you have an idea that could help your business or advance your farm and want to learn more, apply for the grant."

If you or someone you know qualify as a young, beginning and small farmer and are interested in utilizing a grow forward grant to further your operation, click here.