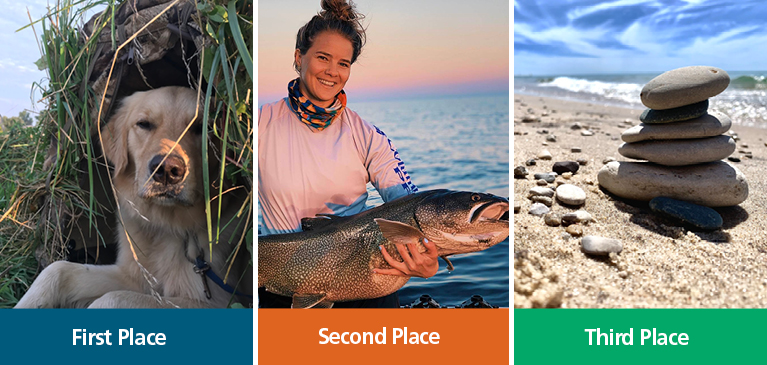 We asked you to "Show us your favorite #OutdoorMoment" through our summer photo contest and 500 of you did! The photos represent Michigan and Wisconsin's diversity and are proof we are lucky to live in a region with so much beauty, and so much to do out-of-doors.

Our friends at Michigan Out-of-Doors TV made the final decision on the winning photographs, narrowing the entries down to three of their favorites. GreenStone Facebook followers voted on which of the three pictures took first, second and third place, awarding the top prize to Justin Schmaltz of Clio, Michigan. His picture, titled Patiently Waiting features his Golden Retriever, Porter.

"The photo was taken on September 1 of last year," Justin says. "It was a special day for us because not only was it opening day of goose season, but also Porter's birthday and the very first hunt he was ever a part of! We weren't able to get any geese close enough to shoot, but it is one day I'll never forget!"

Cassandra Wagner's second place photo, Monsters from the Deep was snapped on July 4 at 6:00 a.m. on Lake Superior. "This was my personal best lake trout, over 40 inches long, 25 inches around and weighing in at over 30 pounds," Cassandra recounts from her home in Hancock, Michigan. "I think it will take me a while to beat this record!"

Third place goes to Lori Wilson from Bear Lake, Michigan for her beachscape photo titled Arcadia, Michigan. "My son, Austin and I love walking the beaches of Northern Michigan and Arcadia is one of our favorites," Lori comments. "On this day Austin was looking for beach glass and Petoskey stones and I was doing what I love, which is taking photos."

Thank you to everyone who participated in the #OutdoorMoment contest, through submitting a photograph or by following the online gallery. We will post more of our favorite contest images on GreenStone's Facebook page and invite you to browse the landscapes, lakes, wildlife, pets and people that epitomize the MI/WI outdoor life.

You may find yourself inspired to look for your own piece of paradise. GreenStone specializes in making country living dreams a reality with home mortgages, construction loans, home site vacant land and recreational vacant land financing. Stop by your local branch or give us a call; we're ready to help you hang up a "Gone Fishin'" sign on your tent, RV or new front door!