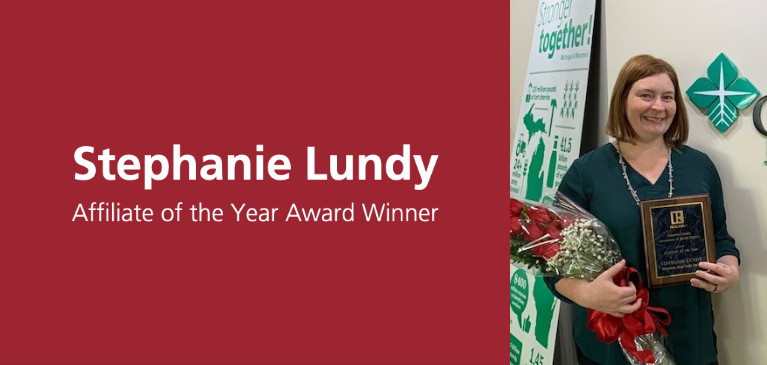 Stephanie Lundy, a financial services officer specializing in country living, has been a part of GreenStone's team since October 2017. She enjoys her time at GreenStone and keeps a busy schedule outside of work, devoting countless hours to the Lenawee County Association of Realtors.
Stephanie serves on a subcommittee that meets regularly to promote the association's volunteerism and community involvement. In the past, realtors gave back to the community through donating money; but in 2019, Stephanie wanted to go the extra mile to make a difference. She volunteered to lead the subcommittee of realtors to donate their time, not just their money, and researched several organizations that needed volunteers.
Within a few months, Stephanie and her committee were booked with volunteer hours, including work at soup kitchens, quarterly happy hours to collect funds for a designated purpose, a golf tournament fundraiser for Habitat for Humanity, and her personal favorite, Meals on Wheels for senior citizens in South Lenawee County.
"We devoted a morning to delivering Meals on Wheels to seniors. It was great to see their needs being met earlier this year before COVID-19 restricted us from visiting them. It's always rewarding to know that a part of the community is served with a friendly face!"
The Lenawee County Association of Realtors soon noticed Stephanie's devotion to serving those in need and surprised her at a luncheon with the Affiliate of the Year award! The organization did not let anyone know she would be receiving it, so she was completely caught off-guard.
Stephanie states, "I was so surprised and happy that my contribution was recognized! I enjoy giving back to the community because it reminds me how blessed I am...you truly receive joy when giving yourself and your time to others."

The GreenStone community has been inspired by Stephanie's willingness to plan and coordinate volunteer efforts with the Lenawee County Association of Realtors, assisting local charitable programs needing a helping hand. Stephanie's actions truly align with GreenStone's core values of getting involved and doing the right thing.