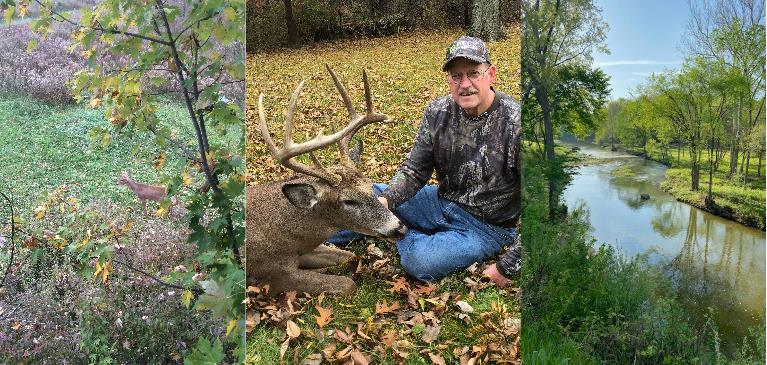 GreenStone's Collateral Analyst Colton Vrable, Crop Insurance Specialist Mark Klett, and Vice President & Chief Appraiser Joseph Hickey are practiced hunters who have many memories connected to the pastime. These three experts each have a favorite hunting spot in Michigan and a notable memory attached to it.
Colton Vrable's ideal hunting location sits along the Misteguay Creek in Maple Grove Township, southern Saginaw County. "The abundance of deer, turkey, fish and small game makes it a great spot to hunt," states Colton. Regardless of the large amount of wildlife present, Misteguay Creek is Colton's desired hunting spot because of the memories he and his grandpa Roger made there when Colton was younger.
Mark Klett, on the other hand, enjoys hunting in his hometown Livingston County, as well as on a neighbor's farm nearby. He hunts efficiently; planning mini food plots to keep the deer fed on the property year-round. "I'll plant corn, soybeans, clover, and brassicas to help the deer," says Mark, creating the ideal habitat in his main hunting lands.
Starting when he was old enough to carry a BB gun, Joseph Hickey began developing the patience to hunt. Soon after his wife Criss and he were married, they purchased 22 acres in Ionia County at one of the first land auction sales in Michigan. Joseph absolutely loves to hunt on this nearly all-wooded acreage, due to the ties that he has with it. "Fortunately for me, it was property that I hunted in my youth and was near our family farm." Like Mark Klett, and with a bachelor's degree in wildlife biology, Joseph relishes managing this tract for whitetail production by planting food plots, attracting deer, turkey, ducks, and the occasional pheasant.
Colton, Mark, and Joseph's memories affiliated with Maple Grove Township, Livingston County, and Ionia County are unique and a part of who they are. Although their preferred hunting spots are in different counties, they all agree that hunting is challenging and requires skill, planning, and practice, but worthwhile.
"As an elderly friend of mine used to say," states Joseph Hickey, "'I enjoy hunting when I am alone or with somebody."