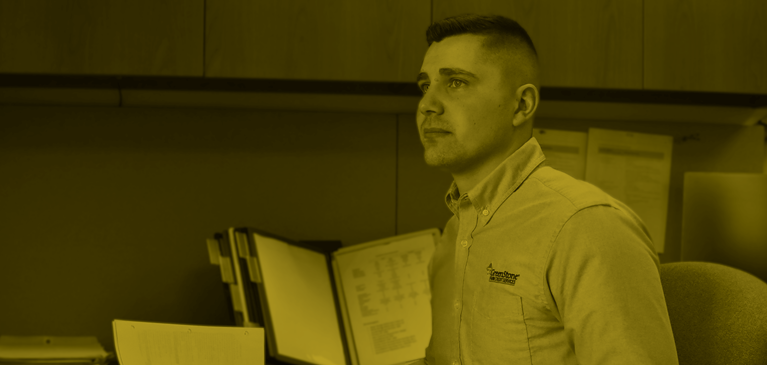 Through the eyes of Matt Platte… GreenStone Financial Services Officer serving farmers from the Ionia branch.

Matt completed 177 loan conversions in 2020. In total – GreenStone completed 12,000 loan conversions saving customers $32 million in interest savings in the first year of the new rate.

To be able to complete conversions, especially calling customers proactively to give them some good news – not only to lift their spirits because of the savings, but because they felt like they had somebody looking out for them – was fulfilling. Customers look to us as a business partner, not just a lender!

The Rate Drop
The downward rate trajectory started mid-year 2019 when the Federal Reserve began dropping the Fed Funds Rate. That trajectory was expedited in March 2020 with the announcement of COVID-19 worldwide and rates plummeted to incredible lows in a matter of a few days.

I remember one day in particular, working on only conversions from 7 A.M. to 7 P.M. The only reason I, and other loan officers, stopped at 7 P.M. was because that is the latest time a conversion could be booked and still count effective for that day. We didn't know where rates were going to land, so we were helping customers take advantage of the abnormally low rates as best as we could.

The Why and How
Farm Credit secures funding for cooperative members through bonds. When interest rates drop, the System can call back those higher yielding bonds and reissue them at lower yields. We do our best to pass on those savings to our customers through loan interest rate conversions – a process that is much simpler, cheaper and quicker than a complete refinance.

I've made it a priority to do my very best to reach out to customers when there is an opportunity for them to save money. I usually prepare a few options. Different customers want different results from a conversion, so I try to complete all of the figuring on the front end so that I can be as efficient as possible when I'm speaking with the customer. I'm trying to save as much of their time – and money - as humanly possible.

Customers are both excited and surprised. There can even be a hint of skepticism at times, thinking it's too good to be true. In general, people don't expect to receive a phone call from their lender presenting them with a lower interest rate, especially with just a signature and small fee. I always remark how much I enjoy making these phone calls, and I joke that I have a 100% success rate with no one turning me down when I'm offering to lower their interest rate.

The Options
Conversions are a powerful, efficient tool unique to GreenStone's customers. Our teams all work together to ensure we can provide the best options to benefit as many customers as possible.

For me, there are a few scenarios I particularly enjoy exploring with my customers. The first being a conversion that checks all three boxes: decreases the customer's interest rate, payment, and loan term. Each customer's situation is unique, and they desire different results from the conversion. Some customers want the lowest interest rate possible; others may be focused on lowering their required payment as much as possible.

My "perfect" conversion balances all of the advantages a conversion can offer by reducing the customer's interest rate, and then compounding those interest savings by reducing the term of the loan, but balancing the term reduction so the resulting payment is equal to or lower than what they had previously been paying.

They might see what I presented and say, "well, I like that, but could we do this…?" So, then we look at something different. I like that piece of it. I think it is important to have that conversation focused on what they truly need, and what their wants and desires are. There's more to completing an interest conversion than just lowering their interest rate.

Customers are appreciative and thankful to have a lender who is proactively looking out for their best interest and has such an easy, cost-efficient method to capture a lower interest rate.

The Unexpected Remote Experience Benefits
Simultaneous with the rate drop was the swift pivot to adopting new habits from home. In alignment with the Executive Orders, customer service and teamwork took altered approaches.

For the Customer: We didn't skip a beat in our service. It was very busy during that time period. We had multiple things going on at the same time, and oh, by the way, we were trying to learn to do it all in a completely different, remote way. But we were proactive, and we didn't give customers time to be frustrated with the situation – before they could be upset with us, we already had a resolution. Depending on what worked best with the customer, we were emailing, sending through My Access, and mailing paperwork.

For the Team: I began my career with Farm Credit in 2015. Up until mid-2019, the only experience I had was in a rising interest rate market. It just so happened I transitioned to this new position as a financial services officer right at the time rates began to decline. Coincidently, the team I work with – the customer service representative and credit analyst – were also relatively new in their positions. It was quite the change for all of us to suddenly be removed from our normal "in office" workflow and then need to do work we weren't familiar with. But we were all learning together. In fact, it may have been a blessing in disguise, because we had to communicate with each other to figure things out. We were all working for the same goal of providing the best solutions for our customers and it brought us close as a team.

For All: Conversions, along with the other programs we were facilitating (PPP, MI Ag Safety Grants, etc.), were actually a great way to connect with my customers. I ended up working with more of my customers than I would have if it was a normal year. Yeah, it might have been remote, doing it all by phone, but it was still an opportunity to provide support to them. And while we talked, we had deeper conversations, not just about the particular program we were working on, but about what was going on with them, their farm and family.

The Rearview
2020 came with many unique challenges. Those challenges created just as many opportunities to provide a helping hand. For GreenStone, those opportunities included conversions, PPP loans, Michigan Agriculture Safety and MEDC Small Farm grants, Michigan Agriculture Disaster loans, payment servicing, and the list goes on. Assisting customers through these difficult and uncertain times made for a rewarding and fulfilling experience in 2020.

The key word is "fulfilling," despite everything else going on.

I know I'm providing a service to my customers that they could technically get anywhere. They're coming to get it from me – from GreenStone – for a reason. I'm thrilled to have been able to assist so many customers in 2020, including 177 loan conversions, and am happy to work for an institution that prioritizes customer service and provides such valuable products and tools.

Everyone had their own personal situation – jobs, family, health, business, etc. So being able to adapt and have the different tools available to help them through their individual scenario to provide a positive outcome, is just exceptionally fulfilling, just truly fulfilling work.