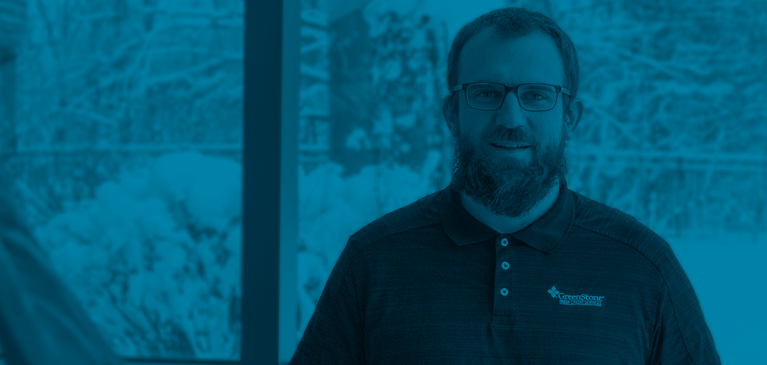 Through the eyes of Mike Spalding… Former GreenStone Commercial Financial Services Officer serving greenhouse growers and row crop farmers.

Mike processed $11.4 million PPP loans for customers in 2020. In total, GreenStone processed 1,500 PPP loans for $145 million.

This was my proudest moment at GreenStone in my almost 10 years at the company – we came together during a very difficult time to secure funding for our customers that needed it!

Our members, like so many businesses, needed the support offered through the Paycheck Protection Program (PPP). As a cooperative with newly granted authority to participate, we were committed to providing access to programs like this for our members. But our crash course into the Small Business Administration (SBA) process during the first wave of PPP funding was far from perfection and left us eager and optimistic to implement a new and improved process for the second wave of funding and the eventual loan forgiveness process.

This PPP loan for many was going to be a lifeline to help keep them going and try to absorb whatever hit was going to happen because of COVID.

Leading up to when PPP loans were announced, GreenStone had already started preparing to support our members if they were going to experience a complete devastation. By that time of year, our greenhouse customers had already incurred most of their expenses for the year. With the Executive "stay at home orders," it was unknown if those customers would even have a sales window in May. It was possible they'd have a complete loss of crop.

For customers like those in the greenhouse industry, these PPP loans came as a lifeline at a time they were standing at the edge of the cliff of not knowing if they're going to have a sales season or not.

March 27, 2020

President Trump signed into law "The CARES Act," including the $349 billion directed to job retention and other business expenses through the PPP.

When I first heard about the $2.1 trillion relief bill passed, I was really blown away by the magnitude of the numbers. And honestly, I thought it would take months for all the PPP funding to be used up.

I started receiving customer inquiries that same day. Their main inquiry was if GreenStone was going to process these loans and they wanted to know what they needed to do to get their applications in ASAP.

Under normal circumstances, GreenStone would have smoothed the path before opening up to take applications from our members. With the fast track announcement of the CARES Act, and Farm Credit's new authorization, we instead had to learn along the way.

Farmers and agribusinesses had been rightfully recognized as critically impacted by the pandemic, and therefore Farm Credit – the 65+ associations like GreenStone which have always been here as financial partners for these essential industries – were authorized to participate with SBA in the PPP. This left us to figure out how to participate next to the thousands of banks across the country that had systems already built to work with SBA every day. We quickly partnered with a third party to provide the gateway to the SBA, and quickly realized several other institutions did the same, and a bottleneck ensued.

April 3, 2020

Just as Mike was starting to settle in to his newly converted 6 foot x 8 foot home office, SBA began accepting PPP loan applications.

At the beginning, there was just a lot of unknowns about the program. SBA seemed to be giving guidance not by the week or day, but it seemed to be by the minute. I was just trying to keep up with the constant changes.

GreenStone was trying to push information as fast as possible to customers and staff. Although customers appreciated the communication, it seemed to always be a step behind.

Due to the circumstances, initial customer reactions were not very favorable, a reasonable frustration for sure! The reality was we were late out the gate. Other banks were accepting applications before us, so there were frustrations hearing that some of them were being submitted and approved before GreenStone even got started.

From GreenStone's perspective, aside from being put in a position to build a system from scratch with limited information in less than a week, there was frustration at the fact that everyone was trying to push a record amount of money through the system in a record setting pace, and the SBA system was simply bogged down.

April 11, 2020

After first partnering with a third party for application submission, applications were streaming in and our vendor was making little headway in getting applications actually submitted to SBA. A swift recalculation took us down a different, direct path for GreenStone to do the entire process.

Within days, GreenStone had been granted direct access to SBA, and had certified and trained approximately 20 staff who immediately began submitting applications to SBA. With the highest rate of entry success coming in off-hours when fewer banks were submitting applications, we orchestrated three shifts of staff working around the clock to manually key applications into SBA's system.

I can't tell you how many times I was getting and sending emails with teammates at 3 A.M. or 4 A.M., in the middle of the night. I've never drank so much coffee.

In the last few days, we pushed an astonishing amount of volume through the pipeline and got most of our applications approved before the funds were exhausted. I think I got close to 10 approvals for my customers late that last night, and then the next day the funds were completely used up.

In 60 hours, less than three days, the GreenStone team manually entered over 800 of our members' PPP applications for approval and funding by SBA before the dollars ran out. In total, GreenStone assisted about 840 members secure nearly $120 million in PPP loan support in the first wave.

I remember talking with customers who were crying on the phone, saying they didn't know if they could make it through the year without this. It was overwhelming - the excitement, gratefulness, the relief they felt. It's an experience I know none of them will ever forget.

April 16, 2020

The $349 billion PPP funds were exhausted.

Was the last-minute success too little, too late for some of our members? Quite possibly, our customers always come first, and we regret we couldn't offer a better solution more promptly to every member.

Even before funding was gone for wave one, and before we knew if more funds would become available for a second wave, GreenStone began seeking an even better solution. And when the second wave of PPP funding was announced, the cooperative was ready with new tools, automation and a streamlined bridge connecting customers directly into the SBA.

April 27, 2020

Congress approved $310 billion in additional funding for the PPP on April 24 and the portal opened three days later.

To expedite application submission into SBA, GreenStone had partnered with a new vendor to give customers a link to apply directly online. Our financial services officers worked with each applicant to help them quickly and seamlessly review and get the applications submitted.

The application process for the two waves of funding were completely different. The first was a complete frenzy of a two-week period of around-the-clock blur.

The second wave we were ready, and so were our customers. With the new process, they were ready with their application to submit.

One experience that sticks out to me is a customer who reached out to apply. When I called him back, his wife answered the phone crying – her husband's dad had just passed away. The customer had to be with his family. But we kept the process going in the background and we ended up getting his loan approved, that made a big difference for him at those times.

August 10, 2020

When the SBA PPP portal closed again on August 10, GreenStone had assisted a total of 1,500 members to submit their applications, securing customers $145 million in PPP loans through the two waves of funding in 2020.

Keeping on the automated, streamlined process, GreenStone is using the same vendor from wave two PPP applications to provide customers another simple and convenient service during the loan forgiveness phase.

I can say we were obviously late to the game from the loan application standpoint. And now I hear from our competitors that we were actually early in the game when it came to forgiveness. So, in the end things really worked.

All we went through with our customers to overcome the challenges really cemented our relationships. They appreciate working with us. We appreciate being able to be their partners.