Pictured: Richard moving his herd to fresh pasture.
GreenStone's Grow Forward Grant can be used for a diverse number of educational courses, seminars, and events. For instance, Richard and Haley Nelson have been fans of Joel Salatin's work since they began reading his books and hearing him speak at a grazing conference. They wanted to sign up for his seminar and visit his farm in person, but financially it was not in reach until they found out about the Grow Forward Grant.
The Nelsons live in Waupaca, Wisconsin, where they own and operate Nelson's Artesian Acres, LLC. They raise red Angus cross beef cattle, rotationally grazing the herd during the growing season on their home farm as well as leased land, and bale-grazing the herd in the wintertime. The Nelsons also try to add something new to their farm each year. Their daughter has a flock of sheep that she grazes alongside the cattle, and she and Haley use their wool to create items to sell at their local farmer's market. Their most recent additions to their farm are honeybees and mushroom logs.
Haley and Richard used the Grow Forward Grant to attend the Polyface Intensive Discovery Seminar at Polyface Farms in Swoope, Virginia. During this two-day seminar, the Nelsons learned everything from large-scale composting to processing chickens and rabbits. They also learned about marketing and farm business topics and got a first-hand look at the way Joel Salatin operates his farm.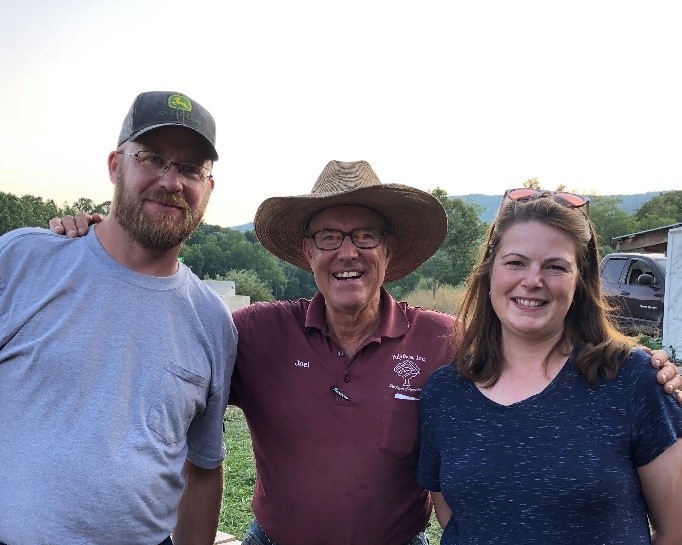 Richard and Haley with Joel Salatin (center).


"Joel Salatin stressed function over form during his sessions. We took that to heart, as we find that sometimes we try to make things look perfect instead of being practical," says Haley. "It was interesting to see how the Salatins run Polyface at the success level they do without a lot of equipment or outbuildings. He does what we are trying to do, but times ten, so it is really neat to see."

Since 2018, GreenStone has awarded up to $40,000 each year in grant money to assist young, beginning, and small farmers expand their knowledge and grow their businesses through educational events and professional resources.

The Nelsons encourage any young, beginning, or small farmer to apply for the grant.

"The application process is smooth, and the value of this grant is wonderful," Haley said. "There are many educational opportunities in the regenerative agriculture movement that farmers in all walks of life would benefit from."

"We were so grateful to be awarded this opportunity and feel that other people would greatly benefit from the experience it provides. We left feeling enriched and inspired, and we hope that somebody else could give you that spark too!" she said.

GreenStone looks forward to supporting many more young, beginning, and small farmers like Richard & Haley who are looking to expand their knowledge and strengthen their business. Visit GreenStone's website to learn more about the specialized loan programs, grants, mentorships and resources designed specifically to support young, beginning and small farmers.

Tags

Request for Information | Apply Now | Young, Beginning & Small Farmer - Financing Options