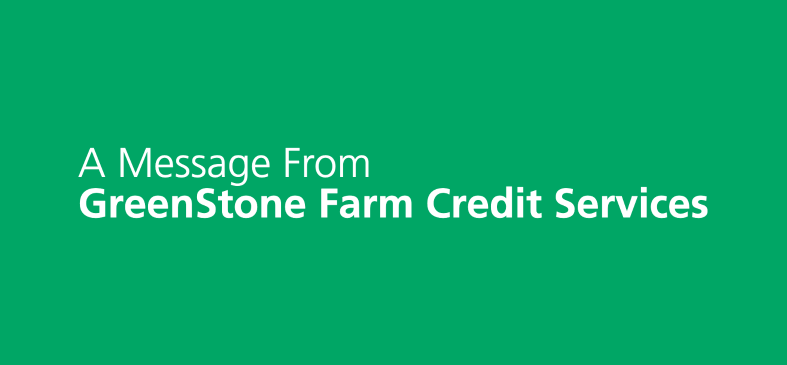 With a 41-year dedicated career serving the Farm Credit System, Dave Armstrong, your president and CEO of GreenStone, has announced his retirement for mid-2022.

"Dave's retirement marks the end of an incredible chapter for GreenStone. Under his leadership these last 13 years as CEO, our cooperative experienced robust growth, remarkable technological advancements, very efficient operations, plus outstanding customer service and employee engagement," said GreenStone Board of Directors Chair Ed Reed.

Dave's inspiring leadership leaves the cooperative in strong, stable hands. "His strategic vision is one shared by the senior leadership team and Board, and provides a solid path for GreenStone's future," Ed confirms.

"It's really pretty simple; stay focused on what's important: relationships with our members, teamwork among our staff, live our Core Four values, and stay true to our mission and vision," Dave Armstrong, President and CEO, shares as his view on the secret to success. "As important as technology advancements are, we don't ever want to lose the human touch that we've brought to this marketplace. The money we lend, the profit we earn, and the Patronage we pay is just how we keep score. It's the people that matter!"

Leaving the Cooperative on a Solid Foundation
Customer satisfaction continues its 20-year trend well above 90% satisfaction
Core values drive employee engagement and recognition as a Top Workplace USA
8.2% loan growth in 2021 leading to strong profits of $265 million and $12 billion in owned and managed assets
Record $115 million returned to members in Patronage, bringing the 17-year total to $720 million
Nearly 600 teammates at 35 locations serving 27,000 members

From Intern to CEO – 41 Years with the Farm Credit System
Dave's career with the Farm Credit System is truly inspirational. Prior to the formation of GreenStone, he began his career with the Production Credit Association of Southeast Michigan in 1979 as a summer intern. Upon graduating from Michigan State University in 1981, he transitioned to a loan officer in Monroe, and later relocated to Farm Credit Services of East Central Michigan as a branch manager in Lapeer in 1985. Soon afterwards, he led the sales and marketing function and became CEO of that association in 1996.

He and his family moved to East Lansing to become GreenStone's Executive Vice President of Sales and Marketing in 1999 leading to the formation of GreenStone through mergers in 2000. He returned to the CEO role in 2009 and has served as the GreenStone President and CEO over these last 13 years. This is certainly a noteworthy 41 plus-year career.

Dave jokes of his tenure, "Some may think that I couldn't get a job anywhere else, but I love the Farm Credit System and GreenStone is my 'farm.' I've treated the business as I would my own and been blessed to have had great teammates and members who are second to none, as demonstrated by our success over the years."

He is a graduate of Michigan State University where he earned a Bachelor of Science degree in animal science. Dave also completed the Graduate School of Banking program at the University of Wisconsin-Madison. He is active in the local community and has served on the board of directors for the Michigan Livestock Expo, the Michigan Economic Development Corporation Executive Committee, the Farm Credit System Captive Insurance Company, the Michigan FFA Foundation, the MSU College of Agriculture and Natural Resources Alumni Association, Crystal Flash, and the Chicago Federal Reserve Bank Advisory Committee.
Dave's positive influence reaches far beyond GreenStone. He helped devise the Centric Technology Collaboration GreenStone leads among nine Farm Credit associations, facilitated the strength of industry alignment through Ag Leaders of Michigan, and has touched numerous industry organizations in Michigan, Wisconsin, and across the country.

Over the decades, Dave's depth of knowledge, moral compass, inclusive approach, and unwavering commitment to the agricultural and financial industries has benefited each of us.

Dave Armstrong, GreenStone President and CEO

The Future
The Board and leadership team has a long history of succession planning allowing the cooperative to be well positioned for this transition. The national search firm Kincannon & Reed has been retained by the Board to conduct a national search for the individual best suited to lead GreenStone's future success.


At The Core of Dave Armstrong


What stands out to you from your 13 years as CEO?
The professionalism, competency, and passion for the agricultural industry of GreenStone's team members. They never cease to amaze me in what they won't do for our members day in and day out.


Most notable accomplishment?
Marrying my wife, Debbie, of 36 years! Also, the birth of our daughter, Lindsey who is now 30 years old.


Favorite moment?
The day our last PPP loan from 2021 was forgiven! Going from 0 to 100 mph with a program that changed, at times by the hour, and successfully processing nearly 5000 loans for about $230 million all on a remote platform was one of the most inspirational moments of my career.


What are the guiding principles you follow?
Keep God at the center of your life. He's the only thing that never changes. Do what you say you are going to do, when you say you are going to do it. And, "no one cares how much you know UNTIL they know how much you care."

Advice for others?
Be kind to others, give grace (NONE of us are perfect), work hard, and don't ever be afraid to hire people a LOT smarter than you!


Retirement goals?
Travel with my wife, Debbie. Spend time with our daughter and son-in-law, Lindsey and Zach. And hopefully develop some new hobbies besides working at GreenStone.