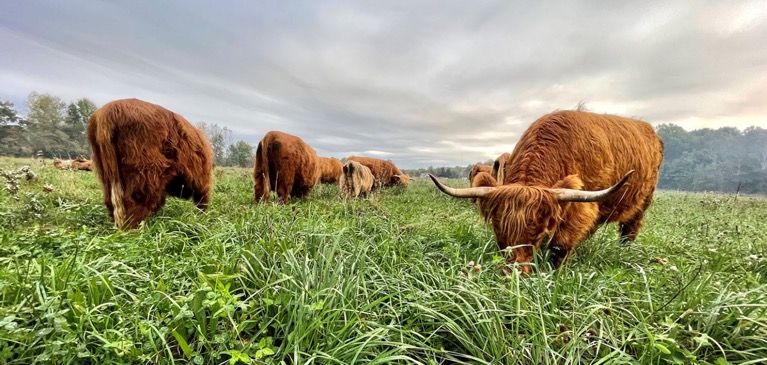 Nick and Annie Rodgers are first generation farmers who took on the challenge of raising Highland cattle, sometimes called Scottish Highland, on their 68-acre farm in Montrose, MI. This unique breed fell perfectly into their lap when a local Highland rancher was looking for someone to take over his herd of cattle. Annie was fully onboard with this new venture, but it took some work to convince her husband Nick.

Nick was finally convinced after realizing that Highlands were a great fit for them and their farm due to their smaller size. Nick and Annie are both dedicated to being environmentally friendly and spend a lot of their time researching rotational grazing and regenerative agriculture. They follow the techniques of Greg Judy and Gabe Brown who advise farmers to raise smaller cattle. Raising smaller cattle puts less weight on the ground, preventing large pockmarks, and it allows farmers to raise more cattle on less land.

They now have a total of 17 Highlands, along with raising hair sheep and hogs.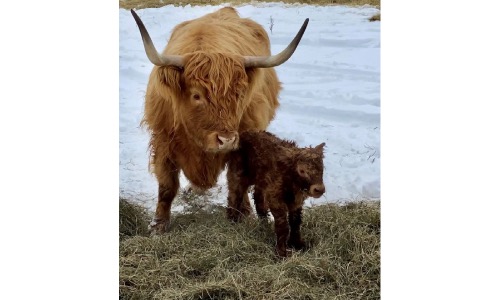 One of Nick and Annie's new Highland calves.

GreenStone's CultivateGrowth Grant arrived unexpectedly to Nick and Annie similarly to their Highland opportunity. Annie received the grant advertisement in the mail and immediately put it on her desk to apply. Nick and Annie are members of the American Highland Cattle Association and the 2021 Network gathering just happened to be in Michigan. This was the perfect opportunity for them to learn more about Highlands and network with fellow farmers. Annie applied for the grant, and they received funding toward the network gathering fees.

The CultivateGrowth Grant helped Nick and Annie attend the three-day conference where they toured farms, learned how to do breeding soundness exams from MSU veterinarians, watched semen collection demonstrations, and learned more about grazing from MSU industry leaders.

The tours and demonstrations were great, but Annie explained, "There's information you get from the conference, but there's so much more information you get from networking with other people."

Annie and Nick hope to continue growing their farm and encourage other beginning farmers to take advantage of the CultivateGrowth Grant.

Annie's advice to any young beginning small farmer: Just continue growing.
"Continue growing and always be learning," Annie said. "When we bought our farm in 2018, we had an idea of what we were going to do and now we are doing something totally different.
"Then I thought, you know, when we look back in 2026 to this year, how much growth are we going to have by then?"
GreenStone looks forward to supporting many more young, beginning, and small farmers like Nick and Annie in their mission to continue growing and learning. Visit Greenstone's site at greenstonefcs.com/cultivategrowth to learn more about the specialized loan programs, grants, mentorships and resources designed specifically to support young, beginning and small farmers.