GreenStone's CultivateGrowth Grant can be used for a diverse number of educational courses, seminars, and events. For instance, when Sara Hunter began the career switch from the IT world to farming, she knew she needed new education and training. The Cultivate-Growth Grant put this goal into reach. It allowed Sara the opportunity to attend the Organic Farming training program through Michigan State University at a lower financial burden she could handle.
Sara has had the help of GreenStone through her entire career switch process. Five years ago, Sara and her husband purchased her 50-year-old family farm in Grand Blanc, MI with the help of GreenStone, and then used a construction loan to build the farmhouse. So, when Sara changed from computer programming to organic farming, she knew she would again need GreenStone's help.
The idea for organic farming began with her grandparents and now it is her main goal as well. Both of Sara's stepsons are on the autism spectrum, and she believes nutrition plays a huge role in their health. The farm is also an investment for her children's future.
"We are really just starting this farm and trying to get it up and going for their future because we believe that, with the way their brain works, you can plant seeds, you can water seeds, and then harvest them. We are hoping that this will provide them with a stable future," Sara said.
Sara used the CultivateGrowth Grant to attend the MSU Organic Farmer training program. The program began in March and runs through November.
Currently, Sara is working on the farm's soil health and learning how to grow everything. Going to MSU every Monday has been a huge educational advancement in that exact area, and many others. MSU has a large 15-acre organic farm, eight hoop houses, and a permaculture garden for this training program. During the training, Sara has hands on lessons, learns about soils, about plot mapping for crops, and just about anything you can think of from A to Z of farming. After the training, they are planning on planting 24 acres of row crops, everything organic, and no till for the fields and hoophouse.
"I think one of the biggest things for me is they grow year-round in unheated hoop houses. So, I've learned how to work on my structure to make it so I can grow year-round, and I want to grow spinach and kale year-round and offer it at a market," Sara said.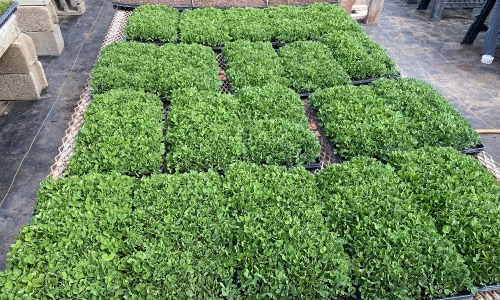 Sprouts that Sara has planted at MSU

Sara also has the opportunity to visit other farms and network with other organic farmers through the program.

"We have six different field trips and a weekend long field trip where we visit different farms throughout Michigan" Sara speculated. "In most of those farms, the owners have been part of the Organic Farmer training program as well, so it's a great opportunity to hear about their farms and experiences."

Last year, Sara put up a 32x72 hoop house and this year will be their first growing season. With the help of the training program education, the hoop house will be home to lavender, onions, tomatoes, and peppers. Along with the hoop house, Sara is also dedicated to improving the health of the surrounding woods for maple syrup. She has been taking out the invasive species and planting different levels of plant heights. This process is strictly organic with zero use of herbicides, and everything is done by hand.

Sara's biggest advice to new farmers like herself, "Do not be afraid to make the change, give it a try!"

"It's a learning process so don't be scared. I'm learning so much everyday through this process and people I've talked to that have been farming for 20-30 years are still learning," Sara shared encouragingly.

GreenStone looks forward to helping many more young, beginning, and small farmers like Sara who are looking to expand their knowledge and advance their farm. Visit GreenStone's CultivateGrowth webpages to learn more about the specialized loan programs, grants, mentorships and resources designed specifically to support young, beginning and small farmers.