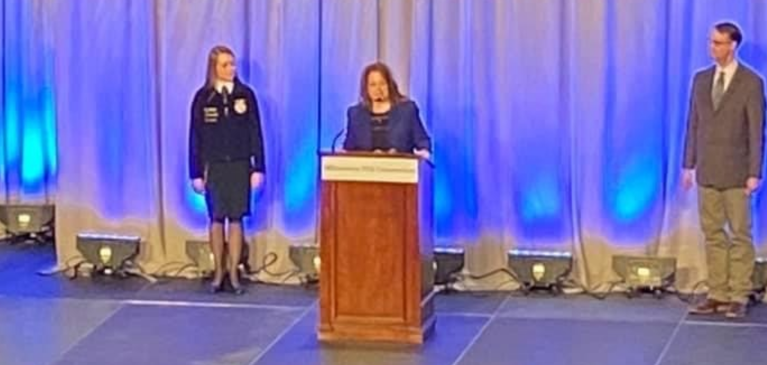 Life on the big stage can seem intimidating for some, but not for GreenStone's Senior VP of Regional Credit, Cindy Birchmeier. Serving as a State FFA Officer, Cindy spent her freshman year of college traveling to different FFA chapters, speaking at large events, and conducting the State FFA Convention sessions on stage in front of hundreds of fellow FFA members. This year, Cindy celebrated her 25 year anniversary of being a Minnesota State FFA Officer. To celebrate her anniversary, Cindy and her officer team traveled back to her home state to do the opening ceremony for the third general session of the 2022 Minnesota State Convention.

It all started her freshman year of high school. As a member of the Owatonna FFA Chapter, Cindy attended multiple leadership conferences held by previous state officers, and during these camps she decided she wanted to make a big impact on rural America.

"During these conferences, I saw how those state officers had a positive impact on the lives of so many students and I wanted to be a part of that. I wanted to be a part of making somebody's high school and college experience better, while also having a positive influence within the agricultural industry," Cindy explained.

Cindy served multiple officer roles during her time in her local chapter. She moved up to serve as the Region 7 President, and then became Minnesota FFA State Sentinel during her first year attending South Dakota State University.

During her time as Sentinel, her favorite thing to do was visit high school FFA chapters and local businesses to tell the FFA story. "You get to meet a lot of industry professionals as well as connect with a lot of students on their home turf, so to speak. And at that time, 25 years ago, I stayed at the students' homes. People welcomed us into their homes, and it was a great experience that really stands out to me," Cindy said.

To celebrate their 25th anniversary, Minnesota welcomed the officer team back to attend the honors session, award lifetime alumni memberships to the current officer team, and do the opening and closing ceremonies for the third general session. Being able to participate in the third session meant a lot to Cindy because her niece received her State degree during that time.

"My niece was a recipient of the state FFA degree during the third general session, so continuing on that legacy from a family standpoint was special. I was very excited to be able to be a part of that with her," Cindy explained.

FFA had a lifelong impact on Cindy. Through leadership experiences, public speaking contests, and general livestock judging she learned how to communicate well with others in a written and verbal form. In her professional career, FFA has helped her grow her connections across the nation. No matter where she goes or what work event she attends, she typically knows someone in the room from her past FFA experiences. Cindy currently serves as GreenStone's representative on the Michigan FFA Foundation Board and "pays it forward" to the FFA members in Michigan.

For Cindy, paying it forward is extremely important., "It's one of those scenarios where the teacher becomes the student. I learned as much from the students as they did from me. Being a state officer was a very fulfilling and rewarding experience and being able to know you have an impact on somebody's life at a very pivotal stage was important for me. Every high schooler has that need to belong and feel connected." Now through the work done with the MI FFA Foundation I help to ensure that these opportunities continue for future generations of FFA members.

GreenStone is a long-time supporter of the FFA and encourages all employees to pay it forward when possible. To learn more about the other ways employees live our core values, including getting involved in their communities, visit Open Fields Blog | GreenStone FCS.