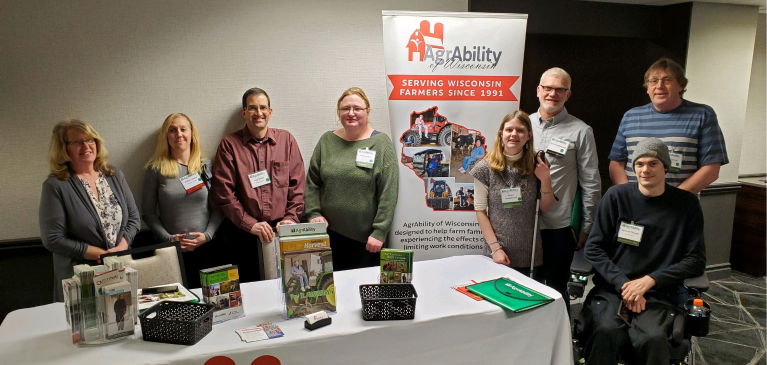 Farming is an extremely labor-intensive career and farmers rely on their physical abilities to complete many of their daily duties. Many of us don't think about certain tasks such as watering plants, weeding, or climbing into a tractor because our physical bodies allow us to complete them efficiently. However, some farmers, like Renee Vandercook, have a much harder time completing these daily duties.

Renee Vandercook, a vegetable farmer in the Manton Michigan area, has optic nerve atrophy which means she can only see shadows and some light perception. This has impacted the way she farms tremendously because she cannot see the weeds among her vegetables and when watering she cannot make sure she saturates every section of her plants.

This is where programs like AgrAbility come in to bridge the gap for farmers like Renee. AgrAbility provides help to farmers with chronic health conditions such as back pain, strength issues, hearing loss, vision loss, amputations, paralysis, stroke, PTSD, fatigue, and many other disabling conditions. AgrAbility sends an Assistive Technology Professional to the farm to make recommendations that may include the use of different tools, modifications to the worksite, procedural changes, or suggestions for alternative agricultural production more suited to the farmer's current capabilities.

Beverly Berens, an AgrAbility case manager, explained that all disabilities are taken into consideration. "Many of us, when we think of disabilities, think of things like a wheelchair or having to walk with crutches all the time. But AgrAbility knows there's so much more. Arthritis is the biggest debilitating factor among farmers because of hard work and repetitiveness. And it's not something that's necessarily visible, but it's something that we really try to make accommodations for."

Renee is one of the many farmers that has found accommodations for her farming practices from AgrAbility. The Assistive Technology Professional toured Renee's farm and made multiple suggestions such as black mats around her sprouting vegetables to help her see the plants better and prevent weeds. They also recommended irrigation hoses, so that Renee doesn't have to hand water her plants.

"The contrast between the dirt and the black mats allows me to see the vegetables better so that I don't step on them, and the black mats prevent weeds from growing through. Then the watering system removes my worry that I'm not watering all my plants. The sprinkler system hits all the plants and I only have to move it around every few days," Renee explained.

Along with providing resources for disabled farmers, AgrAbility and it's members have the opportunity to attend a yearly National Training Workshop. This year the workshop was located in Madison, Wisconsin and GreenStone sponsored Renee to attend. The workshop consisted of presentations, demonstration of equipment for disabled farmers, and networking for all the attending farmers.

Renee explained that while at the workshop she learned about tools that could help her with duties on the farm and networked with other farmers from around the United States. "I don't have the best arm strength, so I found a tool that straps to your arm and helps you pick up items off the ground. I also met a bunch of different farmers from states like Alaska and a few people from Michigan. This is my first year raising pigs, so I met fellow pig farmers who my dad and I got some tips from," Renee said.

AgrAbility and the National Training Workshop provides the hope factor for many farmers. Being able to attend the workshop provides the opportunity for disabled farmers to meet hundreds of other people in similar situations as them. "Networking with other farmers with disabilities helps people see what others are achieving and builds hope and determination. It feeds the soul." Beverly explained.

Find more information on Michigan AgrAbility and to learn how AgrAbility can be a help to you, visit Michigan AgrAbility. All family members on the farm are eligible for help, visit the website to begin your conversation.