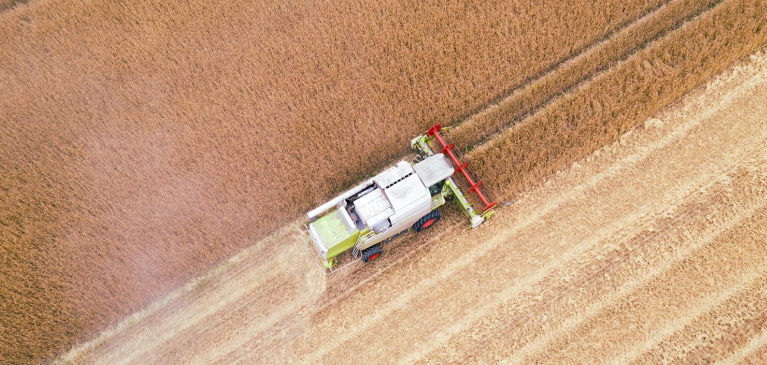 Both experienced and beginning farmers alike need new machinery and equipment to maximize the farm's potential, and they don't always have the cash flow necessary to purchase these crucial updates.
In many cases, leasing can often provide a solution. Among the many benefits of leasing, some of the key factors for you might be:
Zero down payment
Quicker depreciation than with a typical loan payment (See your accountant for your specific information)
Flexible payment schedules
Simple application and easy approval process (Farm Credit can offer lease options under $250,000 with only a 2-page application and current balance sheet required)
Lease-to-Own options
What Can Be Leased?
Every leasing company may be different. Through Farm Credit Leasing, farmers can use a lease for most equipment and vehicle needs for your farm or agribusiness, new or used, like:

Machine sheds and storage buildings
Grain bins and handling facilities
Livestock and dairy facilities
Pole barns and farm shops
Climate controlled buildings
Greenhouses
Tractors
Irrigation systems
Processing and packing equipment
Fertilizer spreaders
Fleet vehicles

That's right, barns and buildings are included. You can even lease buildings like packing sheds and even production facilities. Of special note is that with a building of less than $500,000, the building itself is all the collateral needed with a Farm Credit lease, which means you can have the building you need without leveraging your other assets like the land it sits on. You can even lease a building on land you rent from someone else.

When it comes to vehicles, because Farm Credit leasing buys direct from auto manufacturers like Ford, GM and Dodge, you can lease fleet basic or customer vehicles like trucks, cars, over-the-road haulers and even ATVs at major savings – perfect for farmers who need to manage their farm to get their produce to wholesalers quickly.

Saving Money, Leveraging Risk

Farming has its unique challenges and risks. Farmers deal with threats like Mother Nature, crop disease and pests. Leasing can help mitigate some of these risks by helping you with your cash flow.

With a lease, customers can preserve working capital. Leasing can provide 100% financing with no down payment required. Along with this helping people save money for other expenses, it still allows you to get the equipment and facilities you need to grow the business.


Lease payments can be tailored to fit the customer, including monthly, quarterly, semi-annually, and even seasonally.

Tax advantages

When it comes to paying taxes, business owners are always looking for ways to put themselves in a better financial position, and leases are another tool that can help. Leasing can offer a variety of tax advantages. Not only may lease payments be fully deductible, but expensing lease payments over the term may reduce taxable income.

Tax rules can change every year. By utilizing a lease, a borrower can know exactly what expenses to plan for over a longer period. My advice is it's best to take the tax advantage when you have the opportunity.

It is also important to note leasing also allows owners to seamlessly transfer leased assets to the next generation. This keeps the asset out of the estate, which offers tax benefits. At the time the residual on a lease comes due, the next generation can purchase the assets for the residual amount.

Expert support

When looking at options, it is beneficial for your financial partner to understand the different types of farm businesses, as many can benefit from an accelerated write-off.

When you're looking at options, it's important you work with an expert who understands how a lease agreement might benefit the business.

Through GreenStone's partnership with Farm Credit Leasing, we're able to offer you this expertise.

For more information, reach out to your local GreenStone branch or visit GreenStoneFCS.com.