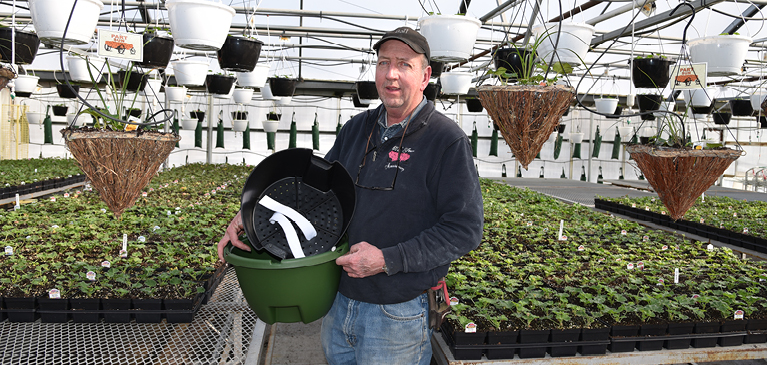 Identifying limitations for customers which may be curbing sales, is a proven way to increase sales and build brand loyalty, and for one GreenStone customer a way to integrate a new concept into an old idea.
Since the mid-1950s, Eckert Greenhouse in Sterling Heights, Michigan has supplied the neighbors and communities around the Detroit area with a wide variety of flowers and plants. Their local following and reputation for unique varieties has allowed the family-owned business to survive through the many economic cycles of the past decades. So when sales of hanging baskets to municipalities began to dwindle, Karl Eckert reached out to his customers to ask why. The answer: it required too much labor to water the plants every day.
Karl and his team at the greenhouse provide the plants and planters lining the streets of many towns across Michigan. Convinced he could find a solution to the watering problem, he began designing a system to prolong the need for watering.
Reaching out to tier-one automotive suppliers in his area, Karl designed a two-part hanging basket with a liner equipped with a wick system pulling up water from a reservoir in the pot, allowing the plants to survive 3 to 4 days between watering.
"At the time, the governor was encouraging automotive manufacturers to diversify their businesses so they were willing to work with me on my design," Karl says.
At the concept stage, Karl reached out to his GreenStone loan officer, Tracy Jelinek, to inquire about additional financing to start the project. A long-time GreenStone customer, Karl knew GreenStone had the understanding and commitment to agriculture he needed in a financial partner.
"I'm so fortunate and honored to work with such a talented, progressive and forward-thinking individual," Tracy says. "Karl and his team saw a need in their industry and went to work building a solution to that need. It is so cool to see the fruits of his labors on people's porches, down city streets, as well as for sale in the greenhouses of my other customers."
The first H2O Labor Saver basket was a 23" hanging basket designed for municipalities. As success of the product grew, Karl produced a consumer version of the basket called the "Weekender" available in 16" pots.
"GreenStone helped us get the inventory for the baskets started and launch the new product," Karl says. "Their willingness to work with me made it all possible."
Working with the automotive manufactures to develop the die, Karl than reached out to local molding companies to produce the products. Employees at the greenhouse assemble the products and prepare them for shipping."It is important to me to keep the production local," Karl says. "I could save money having them made in another country, but I want to support the people around me."
An additional problem emerged from the new product design: the municipalities didn't have hangers strong enough to hold the new baskets. So, Karl went to work again on designing a new hanger for the baskets. Working with an iron fabricator in northern Ohio and Michigan, they are now offering hangers strong enough to support the baskets.
When Karl brought the new planters out to his customers, they were skeptical at first but became quick believers as they saw a reduction in labor while still maintaining beautiful hanging baskets in their towns.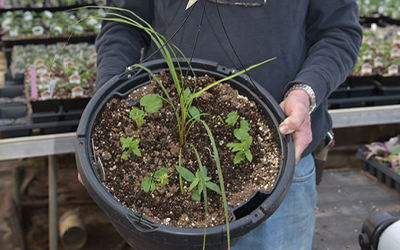 Armed with the local success, Karl took his invention on the road to trade shows and conferences. Soon he gained the attention of third-party vendors willing to promote his product across the country. Through the third-party distributors, Karl's baskets can now be found across the United States and in other countries.

In addition to the hanging baskets, Karl has since built a 28" wrap around pole basket equipped with an outer pot that can be used year round.

Developing the new baskets was a continuation of Karl's ability to innovate and adapt to consumer desires since joining the family business in 1977.

"Our success has always come from giving people what they want," Karl says. "Years ago everybody wanted flats of plants, so that's what we had. Now people want pots, hanging baskets and customized planters, so that is what we offer."

Today the greenhouse holds 700-800 different plants to be used in combination pots and planters. Nearly 100 percent of the plants leave out the front door with customers in the area. A small percentage are sold to communities and municipalities.

"We are on an island, surrounded by homes and business. We are too small to go wholesale, so we have to be our best in retail," Karl adds.

Information about Eckert's Greenhouse and the H2Osaver baskets is available at their website at www.eckertsgreenhouse.com or www.h2olaborsaver.com.

Link to full article:

here