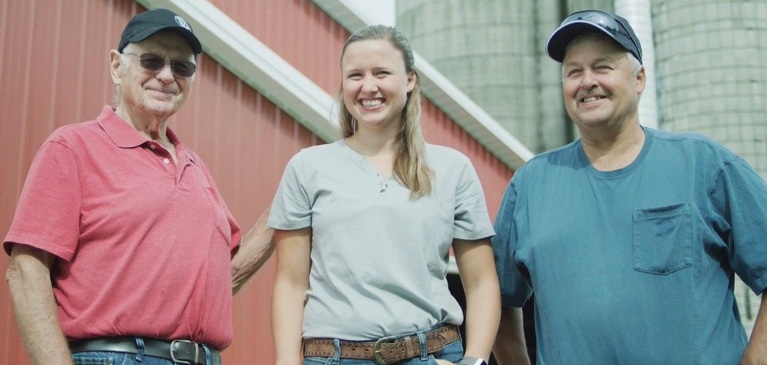 Fifth-generation Michigan dairy farmer, Amanda Jo Carey Goodfellow, fell in love with farming and working with cows at a young age. Carrying this love with her through college, Amanda embraced various roles advocating for the importance of agriculture after returning home to her family farm. Her newest role: Member of the Advisory Committee on Beginning Farmers and Ranchers (ACBFR).

Born and raised on her family's 180-head dairy farm in Morley, Mich., Amanda's small town roots allow her to bring new perspective to ACBFR by offering her insight as a young farmer. The committee, whose goal is to identify programs that benefit beginning farmers and provide opportunities for success, consists of 20 members who are farmers, ranchers or professionals working with the agriculture industry.

Amanda will serve up to two years and meet with the committee periodically to connect with new ideas. Her first meeting took place in Indianapolis over October 31 – November 1, where she met other members and discussed strategies for helping beginning farmers get started.

"During our first day, we got background on what USDA, FSA and NRCS offices do for young farmers," Amanda explains. "We spent a lot of the day brainstorming, sharing stories and trying to come up with ways we think those programs and partnerships can be better for beginning farmers."

Throughout the two-day meeting, Amanda had the chance to talk with other ACBFR members, who are from all over the United States, and hear about their paths to farming.

"I was surprised by the diversity of the 20 people the USDA picked," Amanda says. "There were individuals from Hawaii who started farming in their late forties, retired military members and young traditional farmers who took over the family farm. It really amazed me that they were able to gather such a unique group of people."

The committee will take their recommendation of how the USDA can improve educational programs for beginning farmers to U.S Secretary of Agriculture, Sonny Perdue. They also created work committees that will meet again in March to begin on the next recommendation.

GreenStone is grateful to have customers like Amanda who share the cooperative's commitment to beginning farmers and are actively engaged in helping them get started. Like Amanda, GreenStone takes strides to support the next generation of farmers through initiatives such as the Young, Beginning, Small Farmer (YBSF) program. The program offers farmers educational opportunities and specialized financing options through the Farm Forward Mentorship, Grow Forward Grants and up to $40,000 in scholarships annually.

While Amanda enjoys being on the ACBFR committee and taking action to improve programs for beginning farmers and ranchers, she is grateful for the opportunity to connect with the other members who could relate to the daily challenges many farmers face.

"I think it's always really nice to get off the farm, meet new people and share your experiences," Amanda says. "Sometimes beginning farmers spend so much time focused on the farm at home, that we forget that we aren't the only ones doing what we do."

To read updates about the Advisory Committee for Beginning Farmer and Ranchers, GreenStone's Young, Beginning and Small Farmer program, Grow Forward Grants or Farm Forward Mentorship, check back to GreenStone's Open Fields Blog.