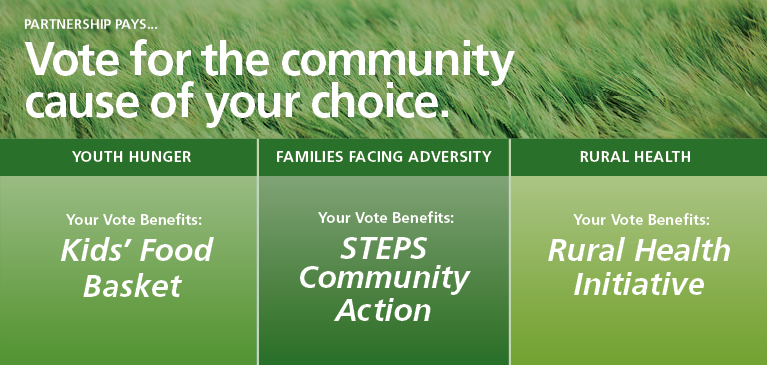 Voting for GreenStone's Member Grown Outreach program kicks off March 11, on Patronage Day!

To celebrate GreenStone's milestone of returning $100 million to members on Patronage Day, $20,000 will also be donated to organizations through the cooperative's Member Grown Outreach program. Each year, the program provides members the opportunity to get involved and help GreenStone select a cause to support. This year, organizations representing Youth Hunger, Families Facing Diversity and Rural Health were selected based on staff nominations.

From Patronage Day, March 11, through March 31, members will be able to vote online or in their local branch for one of three organizations that best represents the cause they would like to see GreenStone support:

Kids' Food Basket – Empower communities to attack childhood hunger so that young people can learn and live well.
STEPS Community Action Center – Dedicated to taking action to assist individuals and families in need, at-risk, struggling, and/or facing a crisis in our community.
Rural Health Initiative – Bridging the gap between farmers and healthcare.

The $20,000 will be divided based on number of votes received:

• 1st place will receive $10,000
• 2nd place will receive $6,000
• 3rd place will receive $4,000

Join us at your local branch and vote!