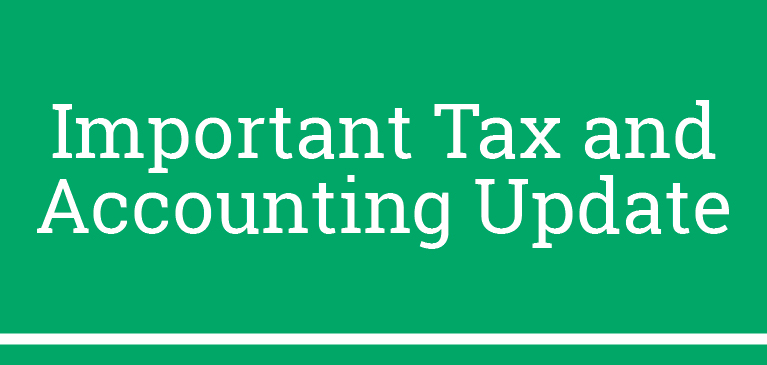 Serving you during COVID-19 Changes.
On Friday, former GreenStone Farm Credit Services President and CEO, Dave Armstrong, sent an email to all customers outlining changes to the way we will be serving you. Starting Monday, March 23, 2020, we will be 'open' for business using a full array of technology and other tools to safely serve your needs and protect our employees, but our office buildings will be closed.

Today, we'd like to provide you specific information related to your tax, accounting, and payroll services with GreenStone. This week Treasury Secretary Steven Mnuchin and President Trump have announced federal tax relief due to COVID-19. The relief details include:
The filing deadline for all individuals, trusts and corporations has been extended from April 15 to July 15, however filers are still encouraged to complete their taxes in an expedited manner if possible.
Filers with 2019 tax payments due can defer these payments interest-free and penalty-free until July 15.
At this point there is no specific guidance for 2020 estimated tax payments – but we do know no amounts are due April 15. We will provide more guidance as it becomes available.
As of the sending this email, Michigan, Wisconsin, and many other states, have not provided updates regarding state tax filing deadlines.
What does this mean to you?
Our employees are working remotely from home to continue providing services to you. We have established procedures to ensure the delivery of your tax, accounting and payroll needs continues. Your tax accountant may contact you to take advantage of the announced federal tax extension, especially if you have taxes due, as it represents a 90 day relief from making tax payments.
As such, we ask you to allow us to work with you through these alternative options:
Communication: While our team is working remotely, our office phones have been forwarded to our cell phones; employees remain available through both phone and email.
Meetings: We will be holding necessary meetings with customers using one of these options: phone call, online via WebEx, or FaceTime. If you do not feel comfortable with any of these options, we will schedule an in-person meeting with you when we resume normal business operations.
Documents: Necessary forms and documents can be delivered through mail, a branch office drop box, or electronically via e-mail or GreenStone's secure portal – My Access (www.mygreenstoneaccess.com).
Signatures: Documents can be sent securely for your signature using DocuSign, or through My Access or via the mail.
Accounting and Payroll Customers: Your tax accountant or assistant will be reaching out to you to develop a customized plan to meet your individual needs should COVID-19 changes require us to work differently with you related to these services.
Changes in the way we work with you are difficult because we are an organization that prides ourselves on providing excellent customer service with significant in-office interaction. Yet by temporarily closing the doors to our buildings and assisting you in our online 'office' space, we believe we will be able to best serve you – safely and securely.

If you need any assistance with My Access or DocuSign, please contact our technical support line by email or phone at 855-895-2761.

We look forward to overcoming the COVID-19 obstacles and continuing to provide you excellent service remotely.




Learn more about the steps GreenStone is taking to better serve you:

GreenStone Cares About Your Health and Well-Being (Published 3/13/2020) As we monitor the development of the coronavirus disease (COVID-19) and all new and ongoing health concerns, we continue to take precautions focused on the priorities of the health of our employees and customers, along with the continual ability to serve customers' needs. We have steps in place to avoid potential disruptions to serving our customers should additional precautions be necessary.

CEO Message: Committed to Working With You! (Published 3/18/2020) We recognize the scope of our responsibility to our customers – to support our rural communities and agriculture with reliable, consistent credit and financial services, today and tomorrow. While the weeks and months ahead hold many unknowns, we are committed to providing a clear path of service and support to both our customers and employees.

GreenStone Buildings to Close, Business is Open (Published 3/20/2020) To protect the health of our customers and our employees, and in recognition of local and national recommendations, GreenStone is taking steps and using the full breadth of our technology and tools to safely serve your needs remotely. Starting Monday, March 23, 2020, GreenStone will be 'open' for business with our staff working remotely, but our office buildings will be temporarily closed.