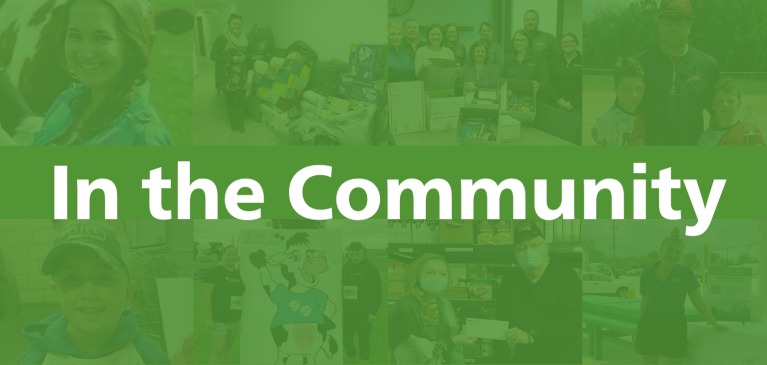 Volunteer Year In Review...
GreenStone takes pride in giving back to the communities we serve and our employees share that same servant minded spirit. Here is a 2020 volunteer year in review.
Regardless of your personal view of 2020, the unified spirit that radiated among individuals serving their communities over the year is something we should be reminded of and carry with us for every year to come.
GreenStone employees exemplify our core values, including service to others, and we would like to highlight their stories once again as a great reminder of positivity and hope as we head into the new year.
While not all are captured below, we thank all GreenStone employees and their families who contributed to their communities in some way this year. We know this listing is only a snapshot of the great work that was accomplished, and we look forward to sharing more service features in 2021.
Allison Pung uses knowledge she learned through competing in Dairy Challenge and at GreenStone FCS to give back to Michigan Youth in Agriculture.
Coming together as a branch to support the local community, the Adrian, Michigan location exemplifies GreenStone's four core values.
The Alpena and Mt Pleasant branches quickly jumped to action collecting goods to send to the troops.
The Hart location supports youth in agriculture through a once-in-a-lifetime trip to Belize. Students will be embarking on a journey to Belize to engage and explore the connection between food, fiber and natural resources in an international setting.
Jim Kosmerick exemplifies GreenStone's four core values through coaching baseball.
Time as an active FFA member at Chippewa Hills High School prepared Elizabeth Wernette to give back to youth in agriculture.
The loss of a loved one can be especially challenging for young people, Ele's Place works to help children through the grieving process. GreenStone employees, Ananda and Cheryl, volunteer to help the families in need on a regular basis.
Oliver Hill noticed the pandemic left families hungry in his community, and donated his steer to help those in need.
On August 8, employees Michelle Backhaus and Tammy Lamers participated and volunteered in the Kickin It with the Cows run/walk.
Taylor's actions of volunteering with the Osceola County Farm Bureau truly align with GreenStone's core values of getting involved and doing the right thing.
As a Michigan GROWN Michigan GREAT ambassador, employee Hailey Andres attends Farmers' Markets to help connect consumers to their food.
In lieu of hosting an in-person holiday celebration this year for customers, our Cadillac branch took a different, community centered approach, on behalf of all our members.
Thank you all for a wonderful 2020 and happy New Year!